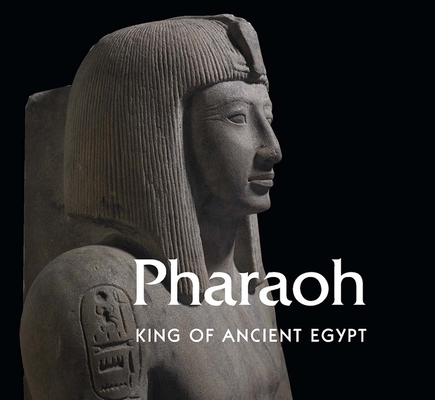 Pharaoh
King of Ancient Egypt
Hardcover

* Individual store prices may vary.
Description
A fresh look at the British Museum's celebrated and extensive ancient Egyptian collection from across three thousand years

Pharaoh: King of Ancient Egypt introduces readers to three thousand years of Egypt's ancient history by unveiling its famous rulers—the pharaohs—using some of the finest objects from the vast holdings of the British Museum, along with masterworks from the collection fo the Cleveland Museum of Art.. In an introductory essay, Margaret Maitland looks at Egyptian kingship in terms of both ideology and practicality. Then Aude Semat considers the Egyptian image of kingship, its roles and its uses. In ten additional sections, Marie Vandenbeusch delves into themes related to the land of ancient Egypt, conceptions of kingship, the exercise of power, royal daily life, war and diplomacy, and death and afterlife. Detailed entries by Vandenbeusch and Semat cover key works relating to the pharaohs. These objects, beautifully illustrated in 180 photographs, include monumental sculpture, architectural pieces, funerary objects, exquisite jewelry, and papyri.
 
The rulers of ancient Egypt were not always male, or even always Egyptian. At times, Egypt was divided by civil war, conquered by foreign powers, or ruled by competing kings. Many of the objects surviving from ancient Egypt represent the image a pharaoh wanted to project, but this publication also looks past the myth to explore the realities and immense challenges of ruling one of the greatest civilizations the world has seen.
Praise For Pharaoh: King of Ancient Egypt…
"The book includes 180 marvelous color photographs of objects such as sculptures, funerary objects, jewelry and papyri. Essays accompanying the plates explore Egyptian kingship and images illustrating the pharaoh's connection with various gods. . . .  The plates throughout the book are striking and the accompanying discussion of Egyptian customs is excellent and very interesting."—Richard Weigel, Bowling Green Daily News
— Richard Weigel

"The variety of the artefacts and the quality of the illustrations, combined with the book's thoughtful text, make this well worth a place in anyone's Egyptological library."—Hilary Forrest, Ancient Egypt
— Hilary Forrest
The Cleveland Museum of Art, 9780300218381, 180pp.
Publication Date: April 26, 2016
About the Author
Marie Vandenbeusch is project curator in the Department of Ancient Egypt and Sudan, British Museum, London. Aude Semat is a lecturer in Egyptology at the École du Louvre, Paris. Margaret Maitland is curator of the Ancient Mediterranean collections at the National Museums Scotland, Edinburgh.
or
Not Currently Available for Direct Purchase