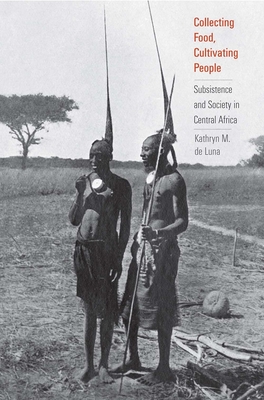 Collecting Food, Cultivating People
Subsistence and Society in Central Africa (Yale Agrarian Studies Series)
Hardcover

* Individual store prices may vary.
Description
A rich analysis of the complex dynamic between food collection and food production in the farming societies of precolonial south central Africa

Engaging new linguistic evidence and reinterpreting published archaeological evidence, this sweeping study explores the place of bushcraft and agriculture in the precolonial history of south central Africa across nearly three millennia. Contrary to popular conceptions that place farming at the heart of political and social change, political innovation in precolonial African farming societies was actually contingent on developments in hunting, fishing, and foraging, as de Luna reveals.
Praise For Collecting Food, Cultivating People: Subsistence and Society in Central Africa (Yale Agrarian Studies Series)…
"A stunningly accessible and provocative study."—Choice​

"This is the epistemological gold standard of history in Africa in any era. . . . Collecting Food, Cultivating People is an intellectual history of foraging with an intricacy and maturity of insight seldom seen in a first book."—Joseph C. Miller, Journal of African History

"Well-crafted, timely, and effectively conceptualized."—Shadreek Chirikure, African Archaeological Review

Won the 2017 Henry A. Wallace Award sponsored by the Agricultural History Society.

Won the 2017 Choice Award for Outstanding Academic Title

"Meticulously researched, imaginatively conceived, theoretically significant, and gracefully written, Collecting Food, Cultivating People is nothing less than a history of the most fundamental phenomena in human history—agriculture and pastoralism, trade, metallurgy, and political centralization."—Thomas Spear, University of Wisconsin-Madison

"de Luna's book brilliantly reminds us—if we had forgotten—of the fundamental value of the insights of the use of  language, material culture, technology, and historical landscapes in Africa's history. And of all history."—James C. McCann, author of Green Land, Brown Land, Black Land: An Environmental History of Africa, 1800-1990

"De Luna's unique arguments regarding the development of hunting, fishing, and food-collecting activities, 'bushcraft,' along with their social and cultural implications, makes this a distinctive and original work. Her book distinguishes itself by its eloquence and lucidity."—David M. Gordon, Bowdoin College

"This is a fascinating story which connects food, bushcraft, and the words through which they are given meaning, to a wider account of precolonial political repertoires in Africa, giving a far richer history to decentralized forms of association than Enlightenment theorists permitted."—Carl Death, author of The Green State in Africa

"In contrast to the facile way that current historical accounts treat 'bushcraft' in relation to farming, de Luna offers an interesting and meticulous examination of the geography of place and its shaping of Botatwe societies."—Eleanor Sterling, American Museum of Natural History


Yale University Press, 9780300218534, 352pp.
Publication Date: September 27, 2016
About the Author
Kathryn M. de Luna is assistant professor of history at Georgetown University, where she specializes in the history of precolonial Africa. She lives in Braddock Heights, MD.

or
Not Currently Available for Direct Purchase