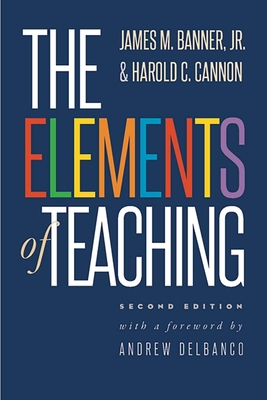 The Elements of Teaching
Paperback

* Individual store prices may vary.
Description
A newly revised edition of this classic work, exploring the diverse qualities essential for teaching in today's educational environment.

"A true classic. Every teacher and parent should read this book."—Diane Ravitch

According to Banner and Cannon, to be an effective teacher requires much more than technical skill. Great teaching is an art that combines a wide range of intellectual, moral, and emotional components. This classic work explores the qualities of mind and spirit that are essential for those seeking to help others acquire knowledge and understanding. It analyzes the specific qualities of successful teachers: learning, authority, ethics, order, imagination, tenacity, compassion, patience, character, and pleasure. Written in a clear and engaging style and applicable to all levels of teaching—be it in schools and universities or on athletic fields and in the home—the book encourages teachers to consider how they might enlarge their understanding of the great art of teaching.
Yale University Press, 9780300218558, 176pp.
Publication Date: April 25, 2017
About the Author
James M. Banner, Jr., is an independent historian, writer, and teacher. Prior to his retirement, the late Harold C. Cannon was division director at the National Endowment for the Humanities. Banner lives in Washington, D.C.