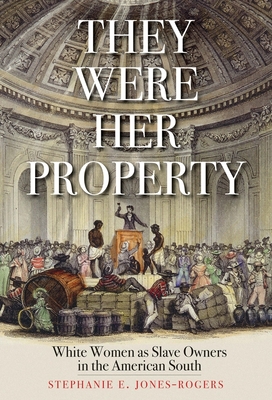 They Were Her Property (Hardcover)
White Women as Slave Owners in the American South
Yale University Press, 9780300218664, 320pp.
Publication Date: February 19, 2019
Other Editions of This Title:
Paperback (1/7/2020)
Compact Disc (2/19/2019)
MP3 CD (2/19/2019)
* Individual store prices may vary.
Description
A bold and searing investigation into the role of white women in the American slave economy
 
Bridging women's history, the history of the South, and African American history, this book makes a bold argument about the role of white women in American slavery. Historian Stephanie E. Jones-Rogers draws on a variety of sources to show that slave‑owning women were sophisticated economic actors who directly engaged in and benefited from the South's slave market. Because women typically inherited more slaves than land, enslaved people were often their primary source of wealth. Not only did white women often refuse to cede ownership of their slaves to their husbands, they employed management techniques that were as effective and brutal as those used by slave‑owning men. White women actively participated in the slave market, profited from it, and used it for economic and social empowerment. By examining the economically entangled lives of enslaved people and slave‑owning women, Jones-Rogers presents a narrative that forces us to rethink the economics and social conventions of slaveholding America.
About the Author
Stephanie E. Jones-Rogers is associate professor of history at the University of California, Berkeley. She is the winner of the 2013 Lerner-Scott Prize for best doctoral dissertation in U.S. women's history.
Praise For They Were Her Property: White Women as Slave Owners in the American South…
"Taut and cogent . . . . They Were Her Property joins a tide of recent books—among them, Sven Beckert's Empire of Cotton, Edward Baptist's The Half Has Never Been Told, Walter Johnson's River of Dark Dreams and Caitlin Rosenthal's Accounting for Slavery—that examine how slavery laid the foundation of American capitalism."—Parul Sehgal, New York Times
"Jones-Rogers is a crisp and focused writer. . . . This scrupulous history makes a vital contribution to our understanding of our past and present."—Parul Sehgal, New York Times
 "Compelling."—Renee Graham, Boston Globe
 "Stunning."—Rebecca Onion, Slate
"Jones-Rogers brings an unseen world to life"—Parul Sehgal, International New York Times
"Dissects the unacknowledged ways that white women were avid participants in (and beneficiaries of) the American system of slavery."—New York Times Book Review, Editors' Choice
"Jones-Rogers's They Were Her Property delivers an unsparing look at the white women who wielded power "in their own right" as owners of enslaved people"—Amy Murrell Taylor, Times Literary Supplement
"Shatters the narrative that married white women were passive bystanders in the business of slavery."—Rodney Brooks, Washington Post/About Us
"Herein lies the greatest innovation of Jones-Rogers's book—to show that the power white women wielded over enslaved people, reflected in horrific violence, extended into the economic structures of slavery. They engaged in brutal acts with the logic of the market in mind. Hers is the first book to isolate white women as economic actors in the slave system, and thus the first to dismantle another long-standing myth about these women—that they simply stood by as men conducted the business of slavery."—Lynne Feeley, The Nation
"This is an important work that changes the way scholars and the public will view the role of white women during antebellum slavery. This book challenges the notion of southern white women as silent beneficiaries of the peculiar institution and suggests that they played a more dominant role in shaping the social and economic structures of plantation life."—Lonnie G. Bunch III, Founding Director, National Museum of African American History and Culture, Evoke.org
"Ought to dispel the myth of the Southern belle for good."—Soraya Mcdonald, TheUndefeated.com
"Deeply researched and closely argued, this unflinching, elegantly written volume . . . overturns much of what historians long believed about what one scholar dubbed 'a man's business.'"—D.R. Egerton, Choice
"Jones-Rogers's work dismantles the notion that white women in slaveholding families were silent actors—instead, she argues, they used the institution of slavery to build a specific concept of womanhood that shaped the history of the nation before and after the Civil War."—Smithsonian Magazine, Ten Best History Books of 2019
Named One of the 10 Best History Books of 2019 by Smithsonian Magazine
Selected for Choice's 2019 Outstanding Academic Titles List
 
"One of the most significant books on the history of women and slavery."—Edward E. Baptist, author of The Half Has Never Been Told: Slavery and the Making of American Capitalism
"Stephanie Jones-Rogers has written a highly original book that will change the way we think about women enslavers in the United States. A must-read for anyone interested in the history of gender, slavery and capitalism."—Daina Ramey Berry, author of The Price for Their Pound of Flesh: The Value of the Enslaved, from Womb to Grave, in the Building of a Nation
"This is a deeply researched and powerfully argued book that completely overturns romanticized notions of the plantation mistresses and resistant southern white women. Stephanie Jones-Rogers reveals how deeply complicit slaveholding white women were in upholding the everyday cruelties and barbarity of racial slavery."—Manisha Sinha, author of The Slave's Cause: A History of Abolition
"They Were Her Property casts brilliant, unsparing light on the history of slaveholding women and the terrible oscillation of domination and dependence that defined identities—as wives, as mothers, as mistresses—purchased in the slave market."—Walter Johnson, author of River of Dark Dreams
"They Were Her Property is nothing less than phenomenal. It shatters many sacred cows about women's history and legal history and shows how slaveowning women skirted the limitations of gender norms and statutory law in ways that have been previously underestimated. The findings are buttressed by reading anew a rich and prodigious body of primary sources. This is a must read."—Tera W. Hunter, Edwards Professor of History and Professor of African-American Studies, Princeton University
"One of the most significant books on the history of women and slavery."—Edward E. Baptist, author of The Half Has Never Been Told: Slavery and the Making of American Capitalism
— Edward E. Baptist
"Stephanie Jones-Rogers has written a highly original book that will change the way we think about women enslavers in the United States. A must-read for anyone interested in the history of gender, slavery and capitalism."—Daina Ramey Berry, author of The Price for Their Pound of Flesh: The Value of the Enslaved, from Womb to Grave, in the Building of a Nation
— Daina Ramey Berry
"This is a deeply researched and powerfully argued book that completely overturns romanticized notions of the plantation mistresses and resistant southern white women. Stephanie Jones-Rogers reveals how deeply complicit slaveholding white women were in upholding the everyday cruelties and barbarity of racial slavery."—Manisha Sinha, author of The Slave's Cause: A History of Abolition
— Manisha Sinha
"They Were Her Property casts brilliant, unsparing light on the history of slaveholding women and the terrible oscillation of domination and dependence that defined identities—as wives, as mothers, as mistresses—purchased in the slave market."—Walter Johnson, author of River of Dark Dreams
— Walter Johnson
"They Were Her Property is nothing less than phenomenal. It shatters many sacred cows about women's history and legal history and shows how slaveowning women skirted the limitations of gender norms and statutory law in ways that have been previously underestimated. The findings are buttressed by reading anew a rich and prodigious body of primary sources. This is a must read."—Tera W. Hunter, Edwards Professor of History and Professor of African-American Studies, Princeton University
— Tera W. Hunter