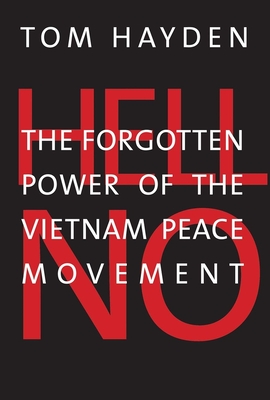 Hell No
The Forgotten Power of the Vietnam Peace Movement
Hardcover

* Individual store prices may vary.
Description
Why those who protested the Vietnam War must be honored, remembered, and appreciated

"Hell no" was the battle cry of the largest peace movement in American history—the effort to end the Vietnam War, which included thousands of veterans. The movement was divided among radicals, revolutionaries, sectarians, moderates, and militants, which legions of paid FBI informants and government provocateurs tried to destroy. Despite these obstacles millions marched, resisted the draft on campuses, and forced two sitting presidents from office. This movement was a watershed in our history, yet today it is in danger of being forgotten, condemned by its critics for everything from cowardice to stab-in-the-back betrayal.

In this indispensable essay, Tom Hayden, a principal anti-Vietnam War organizer, calls to account elites who want to forget the Vietnam peace movement and excoriates those who trivialize its impact, engage in caricature of protesters and question their patriotism. In so doing, he seeks both a reckoning and a healing of national memory.
Praise For Hell No: The Forgotten Power of the Vietnam Peace Movement…
"Tom Hayden, legend of the Sixties and the antiwar movement, offers a powerful reflection that transcends caricature and stereotype, and reminds us why a democratic society needs a genuine mass opposition that points toward values of peace and justice."—Viet Thanh Nguyen, winner of the Pulitzer Prize for The Sympathizer, and author of Nothing Ever Dies: Vietnam and the Memory of War

"There are terrible costs for forgetting our history, as Tom Hayden warns us in Hell No, his essential and passionate plea to remember the critical lessons of the anti-Vietnam War movement before it's too late. May his moving cri de coeur inspire that long-awaited national reckoning with the largest and longest ever peace movement in American history."—Susan Faludi, author of In the Darkroom and Backlash: The Undeclared War Against American Women

"The actual history of the Vietnam War and the movement to stop it is a heretofore largely obscured treasure trove for Americans looking to understand their country and themselves. Tom Hayden maps and evokes that rediscovered history for us as an eyewitness, a superior researcher, and a keen-eyed analyst of movements and international policy. Hell No portrays a national conscience on the move and how it succeeded despite all odds. All of us will be the better for reading this book."—David Harris, author of Our War: What We Did in Vietnam and What It Did To Us

"Tom Hayden's stroke of genius at the end of his life was to write a short book about the campaign he helped wage to end the Vietnam War. In Hell No, he explains why it mattered then and matters now, and he tells those who stood up for justice, and those he hopes will follow, to never forget that they won—the soldiers came home, the killing stopped. That's a lot to get into a short book, but it's all there."—Thomas Powers, author of The War at Home: Vietnam and the American People,1964-68

"Tom Hayden gives an insider's view of the unprecedented movement against the Vietnam War—a movement that brought together (and divided) America. He chronicles and analyzes that broad opposition from its initial brave days through its singular final success. He also documents the ways politicians, police, and the FBI tried to destroy it. Critics accused the antiwar movement of treason; Hayden shows himself and fellow dissenters to be exemplary patriots. This is a necessary and hugely important book."—Amy Wilentz, Professor of English, University of California, Irvine, and author of Farewell, Fred Voodoo: A Letter from Haiti


Yale University Press, 9780300218671, 168pp.
Publication Date: January 31, 2017
About the Author
Tom Hayden, an educator, former California state senator, author, and lifelong activist, was the principal author, in 1962, of the Port Huron Statement, the founding manifesto of Students for a Democratic Society (SDS). He died in Santa Monica on October 23, 2016.
or
Not Currently Available for Direct Purchase