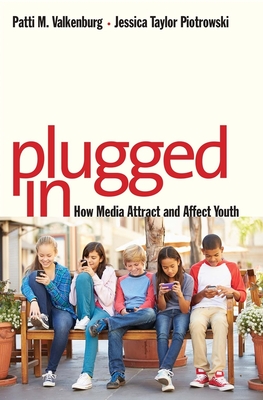 Plugged In
How Media Attract and Affect Youth
Hardcover

* Individual store prices may vary.
Description
An illuminating study of the complex relationship between children and media in the digital age

Now, as never before, young people are surrounded by media—thanks to the sophistication and portability of the technology that puts it literally in the palms of their hands. Drawing on data and empirical research that cross many fields and continents, authors Valkenburg and Piotrowski examine the role of media in the lives of children from birth through adolescence, addressing the complex issues of how media affect the young and what adults can do to encourage responsible use in an age of selfies, Twitter, Facebook, and Instagram.
 
This important study looks at both the sunny and the dark side of media use by today's youth, including why and how their preferences change throughout childhood, whether digital gaming is harmful or helpful, the effects of placing tablets and smartphones in the hands of toddlers, the susceptibility of young people to online advertising, the legitimacy of parental concerns about media multitasking, and more.
Praise For Plugged In: How Media Attract and Affect Youth…
"Patti Valkenburg is a prominent scholar of media and children and one of the most prolific scholars of communication globally. Jessica Taylor Piotrowski is a rising star in our field and one of the leading scholars of the upcoming generation. Together, these two are a powerhouse."—Dafna Lemish, Rutgers, The State University of New Jersey
— Dafna Lemish
"Screen media are among the most pervasive influences in the lives of infants, children, and adolescents. A cutting-edge and forward-thinking book of this sort is greatly needed."—Heather Kirkorian, University of Wisconsin-Madison
— Heather Kirkorian
"This carefully researched and deeply insightful book offers new perspectives on the role of media in the lives of children and adolescents."—Amy B. Jordan, The Annenberg School for Communication, University of Pennsylvania
— Amy B. Jordan
"This essential book combines history with analysis to offer a roadmap on children and media research.  It provides a launch pad for scholars and an accessible read to all."—David Kleeman, Dubit Limited
— David Kleeman
"Ambitious and comprehensive, this excellent book offers a compelling and readable overview of the relationship between young people and the media, informed by diverse theoretical perspectives and a wealth of empirical research.  Professors Valkenburg and Piotrowski admirably cover the full spectrum of age groups and a broad range of key issues that are of primary concern to parents, educators, practitioners and indeed, young people themselves."—Sun Sun Lim, Singapore University of Technology and Design  
— Sun Sun Lim
Yale University Press, 9780300218879, 344pp.
Publication Date: April 25, 2017
About the Author
Patti M. Valkenburg is a university distinguished professor of media, youth, and society at the University of Amsterdam. She has published over 160 academic articles on children, media, and technology. Her work has received numerous awards in both Europe and the United States. Jessica Taylor Piotrowski is an associate professor of youth and media entertainment and the director of CcaM, the Center for Research on Children, Adolescents, and the Media, at the University of Amsterdam. She is a consultant for the children's media industry. Her work appears regularly in communication, psychology, and education journals.
or
Not Currently Available for Direct Purchase