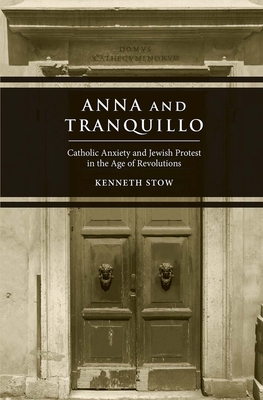 Anna and Tranquillo (Hardcover)
Catholic Anxiety and Jewish Protest in the Age of Revolutions
Yale University Press, 9780300219043, 312pp.
Publication Date: November 22, 2016
* Individual store prices may vary.
Description
A historical interpretation of the diary of an eighteenth-century Jewish woman who resisted the efforts of the papal authorities to force her religious conversion

After being seized by the papal police in Rome in May 1749, Anna del Monte, a Jew, kept a diary detailing her captors' efforts over the next thirteen days to force her conversion to Catholicism. Anna's powerful chronicle of her ordeal at the hands of authorities of the Roman Catholic Church, originally circulated by her brother Tranquillo in 1793, receives its first English-language translation along with an insightful interpretation by Kenneth Stow of the incident's legal and historical significance. Stow's analysis of Anna's dramatic story of prejudice, injustice, resistance, and survival during her two-week imprisonment in the Roman House of Converts—and her brother's later efforts to protest state-sanctioned, religion-based abuses—provides a detailed view of the separate forces on either side of the struggle between religious and civil law in the years just prior to the massive political and social upheavals in America and Europe.
About the Author
Kenneth Stow is the author of Theater of Acculturation: The Roman Ghetto in the Sixteenth Century and Alienated Minority: The Jews of Medieval Latin Europe and founding editor of the journal Jewish History. He is currently a research associate in the Department of History, Smith College, and emeritus professor, University of Haifa, Israel.
Praise For Anna and Tranquillo: Catholic Anxiety and Jewish Protest in the Age of Revolutions…
"Kenneth Stow's lucid and moving book irrefutably shows that the Catholic campaign to convert Jews not only was a historic crime, but remains evidence of a deep disorder in the Faith. Reform-minded Christians, especially, need Stow's work; so does everyone who would purge religion of bigotry and contempt."—James Carroll, author of Constantine's Sword and Christ Actually

— James Carroll
"Part gripping narrative and part learned analysis, Anna and Tranquillo will be of interest to anyone wishing to learn about the historical roots of contemporary debates on citizenship in Western democratic countries. A valuable and engaging read."—Francesca Trivellato, author of The Familiarity of Strangers: The Sephardic Diaspora, Livorno, and Cross-Cultural Trade in the Early Modern Period

— Francesca Trivellato
"Anna's gripping account reminds us of how intensely religious difference mattered in the Enlightenment. Stow's vivid translation and masterful analysis show how attempts to force conversion would remain entirely legal, and a threat to all Roman Jews, until the very basis of law and citizenship changed."—Nicholas Terpstra, author of Religious Refugees in the Early Modern World: An Alternative History of the Reformation
— Nicholas Terpstra
"A truly riveting account. Nothing else like it exists for the modern period."—David Sorkin, author of The Religious Enlightenment: Protestants, Jews and Catholics from London to Vienna
— David Sorkin
"Kenneth Stow, a leading scholar in medieval and Renaissance Jewish history, has offered a new entry into the canon of early Jewish, Italian, and women's autobiographies. Stow offers an elegant translation, a sound apparatus, and an introduction that puts it in the context of not only Italian Jewish history, but in the process of modernization as Jews literally left the ghetto and began to enter modernity during the eighteenth century."—Howard Tzvi Adelman, Department of History and Program in Jewish Studies, Queen's University at Kingston, Ontario
— Howard Tzvi Adelman
or
Not Currently Available for Direct Purchase