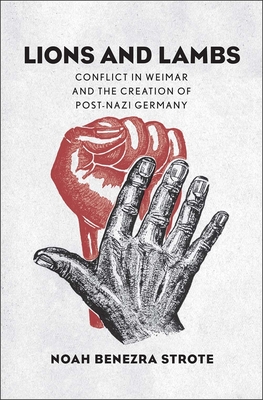 Lions and Lambs (Hardcover)
Conflict in Weimar and the Creation of Post-Nazi Germany
Yale University Press, 9780300219050, 376pp.
Publication Date: May 30, 2017
* Individual store prices may vary.
Description
A bold new interpretation of Germany's democratic transformation in the twentieth century, focusing on the generation that shaped the post-Nazi reconstruction

Not long after the horrors of World War II and the Holocaust, Germans rebuilt their shattered country and emerged as one of the leading nations of the Western liberal world. In his debut work, Noah Strote analyzes this remarkable turnaround and challenges the widely held perception that the Western Allies—particularly the United States—were responsible for Germany's transformation. Instead, Strote draws from never-before-seen material to show how common opposition to Adolf Hitler united the fractious groups that had once vied for supremacy under the Weimar Republic, Germany's first democracy (1918-1933). His character-driven narrative follows ten Germans of rival worldviews who experienced the breakdown of Weimar society, lived under the Nazi dictatorship, and together assumed founding roles in the democratic reconstruction.
 
While many have imagined postwar Germany as the product of foreign-led democratization, this study highlights the crucial role of indigenous ideas and institutions that stretched back decades before Hitler. Foregrounding the resolution of key conflicts that crippled the country's first democracy, Strote presents a new model for understanding the origins of today's Federal Republic.
About the Author
Noah Benezra Strote is assistant professor of European history at North Carolina State University. He is a former fellow at the Center for Advanced Holocaust Studies of the United States Holocaust Memorial Museum in Washington, D.C.
Praise For Lions and Lambs: Conflict in Weimar and the Creation of Post-Nazi Germany…
"The tapestry that Strote weaves from political ideas and biography makes for a cogent narrative."—Choice
"A meticulously researched, clearly written, and persuasively argued interpretation of the role ten intellectuals played in helping to recreate the culture of the Federal Republic of Germany."—H-German
"A highly original and powerful first book. [...] Elegantly written and beautifully organized."—American Historical Review
Lions and Lambs: Conflict in Weimar and the Creation of Post-Nazi Germany by Noah Benezra Strote was awarded 2018 Honorable Mention for the CES Book Award.
"In this learned, sharply observed, and elegantly written book, Strote offers a brilliantly conceived argument about the nature of democracy in Germany's tumultuous twentieth century. It will exert considerable influence on how we think about Weimar and the Federal Republic."—Peter Fritzsche, author of An Iron Wind: Europe under Hitler

"Ever since the sociologist M. Rainer Lepsius popularized the notion of 'social milieux,' it has been commonplace to recall Wilhelmine and Weimar-era Germany as a society divided into discrete cultural-political domains. After 1945, however, a new spirit of partnership brought together these once-antagonistic groups to forge the relatively stable and enduring ethos of the German Federal Republic. In his broad-ranging and suggestive new book, Noah Strote sheds a helpful light on this ideological transformation."—Peter E. Gordon, author of Adorno and Existence
"Lions and Lambs is an impressive, innovative exploration of ideas about overcoming conflict and achieving consensus in Germany from the Weimar Republic through the early years of the Federal Republic. This book will change how we think about Germany's transformation after 1945."—Richard Bessel, author of Germany 1945: From War to Peace
"Beautifully written, this wide-ranging and landmark study reframes our understanding of German postwar democracy and modernization by underscoring the contributions of formerly exiled intellectuals and religious leaders to the establishment of a culture and politics of partnership in the Federal Republic."—Maria D. Mitchell, author of The Origins of Christian Democracy: Politics and Confession in Modern Germany
"A fascinating study of how those who had previously held opposing positions—'lions' and 'lambs'—came to value partnership in the post-Nazi era. An emergent consensus, rather than the efforts of the Allies, lies at the heart of West Germany's stabilization. A genuinely innovative approach, clearly traced through the lives and writings of key individuals."—Mary Fulbrook, author of Dissonant Lives: Generations and Violence through the German Dictatorships