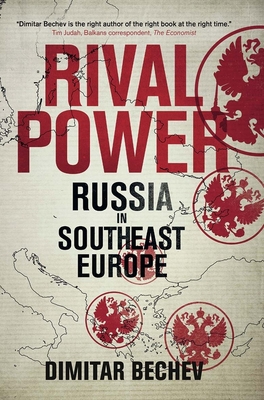 Rival Power (Hardcover)
Russia in Southeast Europe
Yale University Press, 9780300219135, 320pp.
Publication Date: October 3, 2017
* Individual store prices may vary.
Description
A nuanced and comprehensive study of the political dynamics between Russia and key countries in Southeast Europe

Is Russia threatening to disrupt more than two decades' of E.U. and U.S. efforts to promote stability in post-communist Southeast Europe? Politicians and commentators in the West say, "yes." With rising global anxiety over Russia's political policies and objectives, Dimitar Bechev provides the only in-depth look at this volatile region.
 
Deftly unpacking the nature and extent of Russian influence in the Balkans, Greece, and Turkey, Bechev argues that both sides are driven by pragmatism and opportunism rather than historical loyalties. Russia is seeking to assert its role in Europe's security architecture, establish alternative routes for its gas exports—including the contested Southern Gas Corridor—and score points against the West. Yet, leaders in these areas are allowing Russia to reinsert itself to serve their own goals. This urgently needed guide analyzes the responses of regional NATO members, particularly regarding the annexation of Crimea and the Putin-Erdogan rift over Syria.
About the Author
Dimitar Bechev is a research fellow at the Center for Slavic, Eurasian, and East European Studies at the University of North Carolina at Chapel Hill and a nonresident senior fellow at the Atlantic Council.
Praise For Rival Power: Russia in Southeast Europe…
"A sophisticated and cool-headed corrective to the crude image of Russian foreign policy favored by much of the Western press."—Foreign Affairs
"This work plows past other books about Putin and democracy . . . Captivating for serious students of Russian history and political junkies as well."—Library Journal
"Important . . . a balanced, well-documented picture of the competition between Russia and the West for influence in an area of considerable geopolitical importance."—Choice
"A well-researched, comprehensive, and even-handed study."—Boris Barkanov, Russian Review
"Bechev is one of our most active public intellectuals. . . . [Rival Power] is thoughtfully and carefully organized, [and] the writing is fluid and effective."—Ronald H. Linden, Slavic Review
"It would be good to say that this book is a valuable addition to the canon. It is not. When it comes to the issue of Russia, the Balkans and the wider region of south-eastern Europe it is the canon because no one else has written about it. Dimitar Bechev is the right author of the right book at the right time."—Tim Judah, political analyst for the Economist
"For the new 'Great Game' of geopolitical competition, look above all to the Balkans, a region where the impact of Russian energy, soft power, and covert operations are all at their strongest, and which has too long been neglected by Western governments and scholars alike. This excellent book is the best primer yet to this unfolding struggle, a scholarly, sympathetic and realistic analysis of the present situation and likely future developments, which deserves to be read widely and carefully."—Dr Mark Galeotti, head of the Centre for European Security at the Institute of International Relations Prague.
"At the time when it is fashionable to sound alarmist on Russia's return to the Balkans, Dimitar Bechev's Rival Power: Russia's Influence in the Southeast Europe provides a clear-eyed assessment of the opportunities and significant limits for Russia's power in the region. While providing the rich historical context for the ambiguous relationship, Bechev correctly notes the instrumental and highly transactional nature of Moscow's engagement with the Balkan states as a tool of diplomatic leverage with the West and a source of lucrative economic deals. The book may also serve as a cautionary note to those in Moscow who may harbor illusions that the path to securing geopolitical concessions from the West lies through reigniting instability and even ethnic conflict in the Balkans. It has never worked before."—Vladimir Frolov, foreign affairs columnist, Republic
"This timely and insightful analysis takes the Russian challenge to the stability of Southeast Europe seriously - and shows its limitations, despite the abundant opportunities created by local miscreants."—Pavel Baev, Nonresident Senior Fellow, Brookings Institution and Research Professor, Peace Research Institute Oslo (PRIO)
"Russia is back in the Balkans and ideology has little to do with it. In this engaging book, Dimitar Bechev argues that revival of Russia's influence in the region was made possible due to its pragmatism and tough-minded pursuit of material gains. Those viewing Russia as the new ideological warrior will be challenged in their beliefs"—Andrew P. Tsygankov, Professor of International Relations, San Francisco State University.
or
Not Currently Available for Direct Purchase