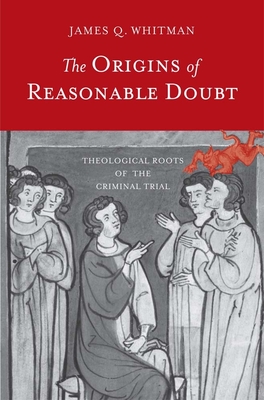 The Origins of Reasonable Doubt
Theological Roots of the Criminal Trial (Yale Law Library Series in Legal History and Reference)
Paperback

* Individual store prices may vary.
Description
To be convicted of a crime in the United States, a person must be proven guilty "beyond a reasonable doubt." But what is reasonable doubt? Even sophisticated legal experts find this fundamental doctrine difficult to explain. In this accessible book, James Q. Whitman digs deep into the history of the law and discovers that we have lost sight of the original purpose of "reasonable doubt." It was not originally a legal rule at all, he shows, but a theological one.
The rule as we understand it today is intended to protect the accused. But Whitman traces its history back through centuries of Christian theology and common-law history to reveal that the original concern was to protect the souls of jurors. In Christian tradition, a person who experienced doubt yet convicted an innocent defendant was guilty of a mortal sin. Jurors fearful for their own souls were reassured that they were safe, as long as their doubts were not "reasonable." Today, the old rule of reasonable doubt survives, but it has been turned to different purposes. The result is confusion for jurors, and a serious moral challenge for our system of justice.
Yale University Press, 9780300219906, 288pp.
Publication Date: February 23, 2016
About the Author
James Q. Whitman is Ford Foundation Professor of Comparative and Foreign Law, Yale University, and author of the award-winning book Harsh Justice. He lives in New York City, NY.
or
Not Currently Available for Direct Purchase