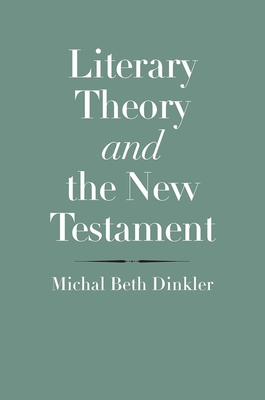 Literary Theory and the New Testament (The Anchor Yale Bible Reference Library)
Hardcover

* Individual store prices may vary.
Description
A comprehensive case for a fresh literary approach to the New Testament

For at least a half century, scholars have been adopting literary approaches to the New Testament inspired by certain branches of literary criticism and theory. In this important and illuminating work, Michal Beth Dinkler uses contemporary literary theory to enhance our understanding and interpretation of the New Testament texts.
 
Dinkler provides an integrated approach to the relation between literary theory and biblical interpretation, employing a wide range of practical theories and methods. This indispensable work engages foundational concepts and figures, the historical contexts of various theoretical approaches, and ongoing literary scholarship into the twenty-first century. In Literary Theory and the New Testament, Dinkler assesses previous literary treatments of the New Testament and calls for a new phase of nuanced thinking about New Testament texts as both ancient and literary.
Praise For Literary Theory and the New Testament (The Anchor Yale Bible Reference Library)…
"This is an erudite and sophisticated account of how literary theory has informed and influenced New Testament studies. Anyone interested in New Testament studies should read this informative, thoughtful, and well-written book."—Tat-siong Benny Liew, College of the Holy Cross
 
"Michal Beth Dinkler's astute and lucid account of literary theories offers New Testament scholars unparalleled means of conceptualizing the possibilities of interdisciplinary interactions. This book establishes Dinkler as the premier guide to new venues for uses of literary criticism."—L. L. Welborn, Fordham University 
"Michal Beth Dinkler proves a reliable guide through the dense fog of literary theory to show New Testament scholars where we have been, where we currently are, and future routes to navigate. A must read!"—Mikeal C. Parsons, Baylor University
"Michal Beth Dinkler has written the first comprehensive account of the half-century old relationship between New Testament scholarship and secular literary theory. Incisive and illuminating, this is a book from which readers with all levels of familiarity with literary theory will benefit enormously."—Stephen D. Moore, The Theological School, Drew University
"Dinkler argues persuasively that re-engaging the literary critical debate can yield fresh exegetical insights that genuinely advance the field of New Testament interpretation. Lucidly written and broad in scope, this book encompasses a vast range of material and treats a diverse array of seminal theoreticians."—Carl R. Holladay, Emory University
 
Yale University Press, 9780300219913, 296pp.
Publication Date: November 26, 2019
About the Author
Michal Beth Dinkler is associate professor of New Testament at Yale Divinity School. Her previous book is Silent Statements: Narrative Representations of Speech and Silence in the Gospel of Luke.