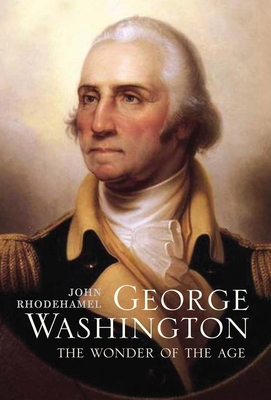 George Washington
The Wonder of the Age
Hardcover

* Individual store prices may vary.
Other Editions of This Title:
MP3 CD (2/21/2017)
MP3 CD (2/21/2017)
Compact Disc (2/21/2017)
Compact Disc (2/21/2017)
Description
"The only Washington biography you need."—Wall Street Journal

As editor of the award-winning Library of America collection of George Washington's writings and a curator of the great man's original papers, John Rhodehamel has established himself as an authority of our nation's preeminent founding father. In this "crisply written, admirably concise, and never superficial" biography (Fergus M. Bordewich, Wall Street Journal) Rhodehamel examines George Washington as a public figure, arguing that the man—who first achieved fame in his early twenties—is inextricably bound to his mythic status. Solidly grounded in Washington's papers and exemplary in its brevity, this approachable biography is a superb introduction to the leader whose name has become synonymous with America.
Praise For George Washington: The Wonder of the Age…
"The only Washington biography you need. . . . Crisply written, admirably concise, and never superficial. As a brief account of Washington's life, it is unlikely to be surpassed for many years."—Fergus M. Bordewich, Wall Street Journal
"In his new biography of Washington, John Rhodehamel eloquently describes the founding father's 'deliberate creation of the public character that gave him the moral authority to lead the quarrelsome collection of former colonies into sturdy nationhood.'"—Bret Stephens, Wall Street Journal
"[George Washington] stands out for its rich prose, . . . [and] Rhodehamel's jaunty writing makes for a highly entertaining book. . . . Washington's story benefits from a vigorous telling. The powdered wig, the silly pants, the poker face staring out from crumpled dollar bills: All serve to separate us from our founding father. Rhodehamel's urgency of prose restores the connection. He also showcases his experience as the former archivist of Mount Vernon by bringing manuscript sources directly to the reader."—Michael O'Donnell, New York Times Book Review
"George Washington: The Wonder of the Age, by John Rhodehamel, is a masterpiece, a concise, fluidly written and well-grounded biography. Rhodehamel, who edited two highly acclaimed books for the renowned Library of America series of great American writers (one, naturally, of Washington's writings and the other of writings from the American Revolution), has executed an accurate and revealing portrait of a man who, more than any other, made possible the creation and subsequent success of the United States."—Steve Forbes, Forbes magazine
"[A] brief and balanced, yet stirring, look at Washington's life in under 400 pages."—Edward Achorn, Weekly Standard
"A splendid single-volume biography of Washington. Rhodehamel captures him and his accomplishments as well as anyone can. A smooth and interesting read."—Mark  Mastromarino, former editor, The Papers of George Washington, University of Virginia
"The interpretation is profound, clear and well-stated, and the author is certainly an expert on George Washington, worthy of tackling the problem of writing a short biography of the long, complicated, and monumental life of the most important founder of the United States."—Douglas Bradburn, Founding Director, The Fred W. Smith National Library for the Study of George Washington. Mount Vernon, Virginia
"John Rhodehamel has written an authoritative and well-rounded biography of the great man and made him and his very different world clearly accessible to us."—Gordon Wood, Professor of History Emeritus, Brown University,  GSW
"John Rhodehamel, who has written many books about George Washington, here conveys his deepest and most enduring view of the man. In strong, straightforward prose, he tells Washington's extraordinary story, without bravura flourishes or exaggerations. It is a memorable reading experience."—Thomas Fleming, author of The Great Divide: The Conflict Between Washington and Jefferson That Defined a Nation

Yale University Press, 9780300219975, 368pp.
Publication Date: February 22, 2017
About the Author
John Rhodehamel is the former archivist of Mount Vernon and curator of American historical manuscripts at the Huntington Library. He is the editor of George Washington: Writings and The American Revolution: Writings from the War of Independence. He lives in Newport Beach, CA.