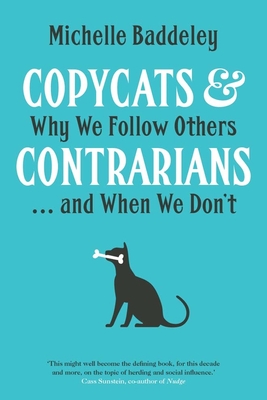 Copycats and Contrarians (Hardcover)
Why We Follow Others... and When We Don't
Yale University Press, 9780300220223, 320pp.
Publication Date: July 10, 2018
Other Editions of This Title:
Compact Disc (7/10/2018)
MP3 CD (7/10/2018)
* Individual store prices may vary.
Description
A multidisciplinary exploration of our human inclination to herd and why our instinct to copy others can be dangerous in today's interlinked world

Rioting teenagers, tumbling stock markets, and the spread of religious terrorism appear to have little in common, but all are driven by the same basic instincts: the tendency to herd, follow, and imitate others. In today's interconnected world, group choices all too often seem maladaptive. With unprecedented speed, information flashes across the globe and drives rapid shifts in group opinion. Adverse results can include speculative economic bubbles, irrational denigration of scientists and other experts, seismic political reversals, and more.
 
Drawing on insights from across the social, behavioral, and natural sciences, Michelle Baddeley explores contexts in which behavior is driven by the herd. She analyzes the rational vs. nonrational and cognitive vs. emotional forces involved, and she investigates why herding only sometimes works out well. With new perspectives on followers, leaders, and the pros and cons of herd behavior, Baddeley shines vivid light on human behavior in the context of our ever-more-connected world.
About the Author
Michelle Baddeley is a research professor at the Institute for Choice, University of South Australia. This will be her fifth book.
Praise For Copycats and Contrarians: Why We Follow Others... and When We Don't…
"An admirable literature survey, well researched, accessible and comprehensive. . ."—Helga Drummond, THES
"Baddeley is a forceful advocate for the value of contrarians, and urges societies to make it easier for their members to take risks in advancing new ideas or theories. Her observations on how both risk-taking and conformism contributed to Donald Trump's election, and on how social media affects 'copycats,' make for a well-timed and valuable study."—Publishers Weekly
"Baddeley is a truly exceptional scholar, with terrific writing skills and real originality . . . this might well become the defining book, for this decade and more, on the topic of herding and social influence."—Cass Sunstein, co-author of Nudge
"A tremendous read: we badly need to understand the psychological undercurrents of society more thoroughly, and Copycats & Contrarians is vital reading."—Julia Hobsbawm, author of Fully Connected
"Why do we herd? From the financial crisis to Beatlemania, death cults to the rise of populism, Michelle Baddeley brings her rare academic expertise to bear in this richly researched, timely and highly readable book."—Eric Kaufmann, author of Shall the Religious Inherit the Earth?
"Copycats and contrarians make for powerful economic and social forces across the world today, in ways which affect us all. Michelle Baddeley's dissection of these forces is a rare thing: breadth, depth, and though-provoking throughout."—Jonathan Aldred, author of The Skeptical Economist
"A wide-ranging cross-disciplinary perspective of why we run with—or avoid—the crowd, and why it matters, from choosing a restaurant in a tourist trap to believing fake news. I learned a lot, and you may too."—Tim Harford, author of The Undercover Economist
or
Not Currently Available for Direct Purchase