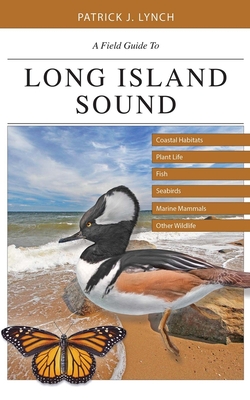 A Field Guide to Long Island Sound
Coastal Habitats, Plant Life, Fish, Seabirds, Marine Mammals, and Other Wildlife
Paperback

* Individual store prices may vary.
Description
A lavishly illustrated and long-overdue guidebook to the rich natural history of Long Island Sound and its coastlines, a region beloved by millions of people

Long Island Sound consists of a diverse collection of unique marine, estuarine, and terrestrial ecosystems located in one of the most densely populated regions in the United States. The Sound and its coastlines are home not only to myriad species of plants and animals—from shorebirds and turtles to whales, seals, and fish—but also to more than twenty million people.
 
Until now there has been no one-stop reference for those interested in exploring the Sound's rich natural history. Author, photographer, and scientific illustrator Patrick Lynch has filled this gap. Brimming with maps, photographs, and drawings, Lynch's guide introduces readers to the full breadth of the Sound's environs from shorelines to deepest waters. With coastal areas at particular risk from climate change and pollution, his timing couldn't be better. Whether readers are interested in the area's geology and meteorology, its history of human intervention, or simply locating nature reserves and bird sanctuaries, they're sure to find Lynch's compendium indispensable.
Praise For A Field Guide to Long Island Sound: Coastal Habitats, Plant Life, Fish, Seabirds, Marine Mammals, and Other Wildlife…
"A lavishly illustrated and enlightening companion to anyone who cares about the 110-mile long estuary's survival."—Sam Roberts, New York Times

"Remarkably comprehensive. . . . The maps are clear, the photography colorful, the illustrations detailed and accurate—flat-out beautiful, really."—The East Hampton Star

"Patrick Lynch's new book is a handy guide, easily fitting into a backpack on a beach walk, that gives the reader a sense of the nature they enjoy."—Connecticut Magazine

"Lynch's illustrations are accurate, subtle and beautiful. His understanding of the subject—both the big picture and the details—is comprehensive. . . . I can easily envision general readers and students carrying it with them to the beach or the shore and referring to it often."—Tom Andersen, author of This Fine Piece of Water: An Environmental History of Long Island Sound

"This book promises to be THE go-to guide for anyone seeking basic information about the natural history of Long Island Sound. . . . I would certainly buy the book, both for myself, and as a gift for others."—Chris Elphick, University of Connecticut

"Significant and exhaustive. . . . With gorgeous photographs, illustrations, and scientific graphics, the author presents a vivid story about the ecological importance of this diverse set of ecosystems, from its deepest open-water reaches to its shorelines."—Elizabeth Farnsworth, New England Wildflower Society

"An informative guide to Long Island Sound habitats, organisms, and both natural and cultural history."—Kurt Bretsch, Stony Brook University

"This captivating and superbly illustrated work by Patrick Lynch is badly needed and is a tremendous resource that I will treasure for many years to come."—Margaret Van Patten, Connecticut Sea Grant, University of Connecticut


Yale University Press, 9780300220353, 416pp.
Publication Date: March 21, 2017
About the Author
Patrick J. Lynch is a former senior digital officer in Yale University's Office of Public Affairs and Communications and an award-winning author, designer, illustrator, and photographer. He lives in North Haven, CT. Twitter: @patrlynch