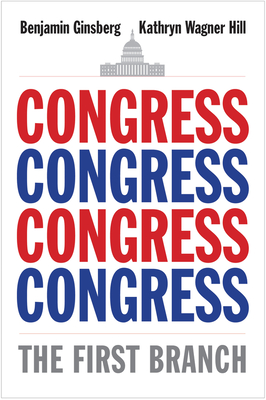 Congress (Paperback)
The First Branch
Yale University Press, 9780300220537, 376pp.
Publication Date: August 20, 2019
Other Editions of This Title:
Paperback (7/21/2020)
* Individual store prices may vary.
Description
An introduction to the U.S. Congress, from seasoned political historians and teachers

In this accessible overview of the United States Congress's past and present, Ginsberg and Hill introduce students to the country's most democratic institution. This text surveys Congressional elections, the internal structure of Congress, the legislative process, Congress and the President, and Congress and the courts. Congress: The First Branch offers a fresh approach to the First Branch grounded in a historical, positive frame.
About the Author
Benjamin Ginsberg is the David Bernstein Professor of Political Science at Johns Hopkins University and Chair of the Hopkins Center for Advanced Governmental Studies. Kathryn Wagner Hill is director of the Center for Advanced Governmental Studies at Johns Hopkins University.
Praise For Congress: The First Branch…
"The authors offer a lively, historically grounded treatise that reminds citizens, students, and fellow congressional scholars that Congress is not broken."—Timothy LaPira, James Madison University
"This is an impressive textbook. The authors present Congress as both more positive and more historically grounded than other texts."—Michael S. Lynch, University of Georgia
"A singular achievement! Chronicling Congress's powers, practices, and development, the authors lament its declining role in the Constitutional framework and demonstrate why Americans should spring to the First Branch's defense."—Douglas B. Harris, author of Choosing the Leader: Leadership Elections in the U.S. House of Representatives
"Against the tide of national congress-bashing, Congress: The First Branch offers an important defense of the many virtues of our national legislature as the best embodiment of America's pluralistic, democratic values."—Lee Drutman, author of The Business of America is Lobbying