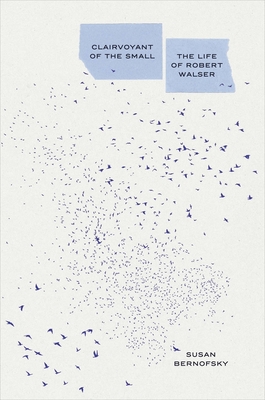 Clairvoyant of the Small
The Life of Robert Walser
Hardcover

* Individual store prices may vary.
Description
The first English-language biography of one of the great literary talents of the twentieth century, written by his award-winning translator

"Masterful. . . . This balanced and meticulous account shines a bright light on a misunderstood and influential writer."—Publishers Weekly, Starred Review

The great Swiss-German modernist author Robert Walser lived eccentrically on the fringes of society, shocking his Berlin friends by enrolling in butler school and later developing an urban-nomad lifestyle in the Swiss capital, Bern, before checking himself into a psychiatric clinic. A connoisseur of power differentials, his pronounced interest in everything inconspicuous and modest—social outcasts and artists as well as the impoverished, marginalized, and forgotten—prompted W. G. Sebald to dub him "a clairvoyant of the small." His revolutionary use of short prose forms won him the admiration of Franz Kafka, Walter Benjamin, Robert Musil, and many others.
 
He was long believed an outsider by conviction, but Susan Bernofsky presents a more nuanced view in this immaculately researched and beautifully written biography. Setting Walser in the context of early twentieth century European history, she provides illuminating analysis of his extraordinary life and work, bearing witness to his "extreme artistic delight."
Praise For Clairvoyant of the Small: The Life of Robert Walser…
"A diligent biography . . . [Walser's] miniatures account for some of the most sublimely joyful writing of the past century . . . Ms. Bernofsky wants to peer behind the smiling naïf to better glimpse the lonely, erratic artist."—Sam Sacks, Wall Street Journal

"[A] masterful biography . . . This balanced and meticulous account shines a bright light on a misunderstood and influential writer."—Publishers Weekly  (starred review)

"In this nuanced, astute, and revelatory biography, Susan Bernofsky gives us Walser the man—mysterious, intellectually adventuresome, humble, an artist of the first order. So, too, is Bernofsky's exceptional book: of the first order."—Hilton Als

"Susan Bernofsky's deep and decades-long involvement with Robert Walser's work has resulted in a meticulously researched, lively narrative and astute critical study of this complex and appealing writer. Clairvoyant of the Small is one of the best biographies I've read in a long time."—Lydia Davis

"Robert Walser is the perfect pathetic poet: pithy, awkward, drinks too much, sibling rivalrous, ambitious, broke, and mentally ill. Was he proto queer or trans, this red headed writer who next to Gertrude Stein might be the most influential writer of our moment? Riveting and heart-breaking, this biography kept me drunk for days."—Eileen Myles

"Written with true love, Susan Bernofsky's meticulously investigated book is a sensitive and subtle analysis of Robert Walser's radical life and work, casting a blazing light on this giant of literature."—Thomas Hirschhorn

"A magnificent work of scholarship and among the finest literary biographies I've ever read—gorgeously written, immensely well researched, and addictively readable."—Samuel Frederick, The Pennsylvania State University


Yale University Press, 9780300220643, 392pp.
Publication Date: May 25, 2021
About the Author
Susan Bernofsky is associate professor of writing at Columbia University School of the Arts and director of the literary translation program in Columbia's MFA Writing Program. She has translated over twenty books.