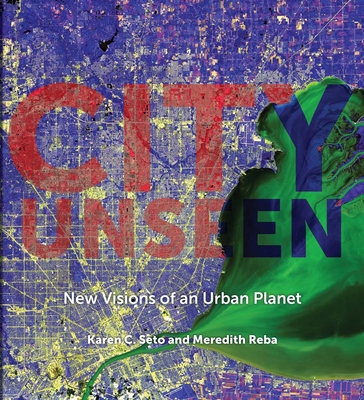 City Unseen
New Visions of an Urban Planet
Hardcover

* Individual store prices may vary.
Description
Stunning satellite images of one hundred cities show our urbanizing planet in a new light to reveal the fragile relationship between humanity and Earth
 
Seeing cities around the globe in their larger environmental contexts, we begin to understand how the world shapes urban landscapes and how urban landscapes shape the world. Authors Karen Seto and Meredith Reba provide these revealing views to enhance readers' understanding of the shape, growth, and life of urban settlements of all sizes—from the remote town of Namche Bazaar in Nepal to the vast metropolitan prefecture of Tokyo, Japan.
 
Using satellite data, the authors show urban landscapes in new perspectives. The book's beautiful and surprising images pull back the veil on familiar scenes to highlight the growth of cities over time, the symbiosis between urban form and natural landscapes, and the vulnerabilities of cities to the effects of climate change. We see the growth of Las Vegas and Lagos, the importance of rivers to both connecting and dividing cities like Seoul and London, and the vulnerability of Fukushima and San Juan to floods from tsunami or hurricanes. The result is a compelling book that shows cities' relationships with geography, food, and society.
Praise For City Unseen: New Visions of an Urban Planet…
"Cities are a tug-of-war between nature and humanity. . . . This stunning study by Karen Seto and Meredith Reba explores this uneasy symbiosis through surreally hued satellite images of 100 cities."—Nature

"A fresh perspective on the fragility and resilience of our world."—Jessica Leigh Hester, Atlas Obscura

"City Unseen takes a high-level look at how urban landscapes shape the world."—Kelly Regan, Next City

"The authors take the very long view of urbanizations with this beautiful collection of satellite photos of cities around the world . . . the brightoy colored images for the chapter on agrarian area look like modern art."—Landscape Architecture magazine

"The images in City Unseen struck me in much the same way as my views out the spacecraft window: stunning, beautiful, and enlightening."—Kathryn D. Sullivan, retired NASA astronaut and former Administrator of the National Oceanic and Atmospheric Administration

"One will never look at cities in the same way. City Unseen provides an urban observatory and tells a compelling story of sustainable development that all should see and read, regardless of where one calls home."—Dawn J. Wright, Chief Scientist, Esri

"City Unseen allows a unique look at cities with the help of satellite technology, demonstrating both our vulnerability and the opportunities to design a sustainable urban future."— Julia Marton-Lefèvre, Former Director General, International Union for Conservation of Nature (IUCN)

"Magnificent. Powerful images and crisp informative writing put cities across the world into comparative perspective to reveal patterns and places hitherto unseen."—Susan Parnell, African Centre for Cities, University of Cape Town

"Seto and Reba have produced a masterful and much-needed foundation to reinforce decision-makers' abilities to manage 21st century territorial development. This is a must-read and enduring reference for all urbanists."—Eugenie L. Birch, University of Pennsylvania


Yale University Press, 9780300221695, 268pp.
Publication Date: September 18, 2018
About the Author
Karen C. Seto is the Frederick C. Hixon Professor of Geography and Urbanization Science at the Yale School of Forestry and Environmental Studies and a member of the U.S. National Academy of Sciences. Meredith Reba is research associate at the Yale School of Forestry and Environmental Studies.
or
Not Currently Available for Direct Purchase