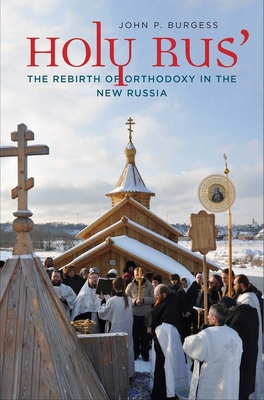 Holy Rus'
The Rebirth of Orthodoxy in the New Russia
Hardcover

* Individual store prices may vary.
Description
A fascinating, vivid, and on-the-ground account of Russian Orthodoxy's resurgence
 
"A compelling picture."—Irina Papkova, Russian Review
 
"Powerful."—Philip Jenkins, Christian Century
 
A bold experiment is taking place in Russia. After a century of being scarred by militant, atheistic communism, the Orthodox Church has become Russia's largest and most significant nongovernmental organization. As it has returned to life, it has pursued a vision of reclaiming Holy Rus': that historical yet mythical homeland of the eastern Slavic peoples; a foretaste of the perfect justice, peace, harmony, and beauty for which religious believers long; and the glimpse of heaven on earth that persuaded Prince Vladimir to accept Orthodox baptism in Crimea in A.D. 988.

Through groundbreaking initiatives in religious education, social ministry, historical commemoration, and parish life, the Orthodox Church is seeking to shape a new, post-communist national identity for Russia. In this eye-opening and evocative book, John Burgess examines Russian Orthodoxy's resurgence from a grassroots level, providing Western readers with an enlightening, inside look at the new Russia.
Praise For Holy Rus': The Rebirth of Orthodoxy in the New Russia…
"A fresh perspective . . . a compelling picture."—Irina Papkova,
Russian Review
"Powerful"—Philip Jenkins,
Christian Century
"This book will take you right into the trenches where the battle for the soul of Russia is being fought—one liturgy, one pilgrimage, and one Bible study class at a time."—John Garrard,
Journal of Church and State
"Burgess works his personal experiences into the narrative and draws extensively on his Russian contacts' views. This gives his book a light touch, which makes it accessible to a non-expert audience."—Katja Richters,
Catholic Historical Review
"A valuable study for anyone interested in post-Soviet Russia or in the survival of Christianity in the modern world."—Barbara Skinner,
Canadian Journal of History
"The book has a very personal character and describes many encounters and experiences the author had in Russia. . . . The reader learns details which may have been hitherto unknown even to the specialist, and which make the reading lively for the interested layperson."—Thomas Bremer,
Slavic Review
"Burgess . . . adds a much needed and helpful option within the existing scientific discourse on the role of the ROC in current Russia."—Regina Elsner,
Association for the Study of Nationalities
"Holy Rus presents an intriguing interpretive essay on Orthodox Christianity in modern Russia. . . . Writing from the perspective of a Reformed Protestant theologian, Burgess alternately displays sympathies for, criticisms of, and genuine curiosity about modern Russian Orthodoxy."—Joel Brady,
Pennsylvania Geographer
"Burgess presents a well-researched survey of the ROC and its positive influences on local communities and the Russian nation through social ministry. . . . The book's extended dialogues grappling with the cultural aspects of the ROC and popular Orthodoxy as a civil religion are superbly insightful."—George Barros,
Providence
"The book is engaging, thoughtful, personal, and accessible by the non-specialist, and can profitably be read by anyone seeking to understand the role of religion in contemporary Russia."—Scott M. Kenworthy,
Reading Religion
"A book full of surprises. It seems God refuses to let Orthodoxy die in Russia. We owe Burgess much for making this story known."—Stanley Hauerwas, author of
The Work of Theology
"Both sympathetic and sober, this insightful study of Orthodox Christianity in today's Russia is essential for anyone wanting to understand Russia's quest for spiritual sanity and integrity in the midst of the deformations of the past and present."—The Very Reverend Leonid Kishkovsky, Orthodox Church in America
"Burgess is a careful observer and his illuminating descriptions of places and people give this book a personal immediacy. Thoughtful, fresh, and judicious, Holy Rus' will be of interest to anyone invested in the fate of religion in developed, industrialized countries."— Nigel Biggar, University of Oxford
"This is an excellent, readable, deeply informed, and sympathetic but distanced account by a trusted scholar.  For a decade, John Burgess has steeped himself in Russian Orthodox practice and has now written a timely and indispensable book for those wanting to understand modern Russia."— Iain R. Torrance, Princeton Theological Seminary
"
Holy Rus' is a
vivid, detailed account of the institutions and personalities that shape Russian Orthodoxy today. Everyone who wants to understand Russia's past or to anticipate its future should read this book."—Robin W. Lovin, Southern Methodist University
Yale University Press, 9780300222241, 280pp.
Publication Date: February 21, 2017
About the Author
John P. Burgess teaches at the Pittsburgh Theological Seminary. A Fulbright Scholar to Russia in 2011, he has travelled extensively within Russia, lived in Moscow and St. Petersburg, and made pilgrimage to some of Russian Orthodoxy's most important monasteries, parishes, and holy sites.  He is the author of four other books on religious subjects and lives in Pittsburgh, PA.

or
Not Currently Available for Direct Purchase