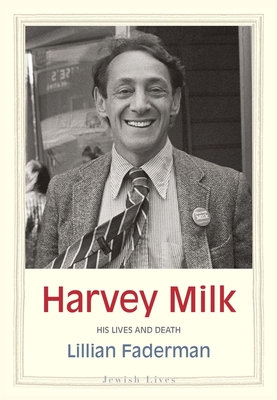 Harvey Milk
His Lives and Death (Jewish Lives)
Hardcover

* Individual store prices may vary.
Other Editions of This Title:
Compact Disc (5/22/2018)
MP3 CD (5/22/2018)
Paperback (9/10/2019)
Description
From the prizewinning Jewish Lives series, a lively and engaging biography of the first openly gay man elected to public office in the United States, a man fiercely committed to protecting all minorities

Harvey Milk—eloquent, charismatic, and a smart-aleck—was elected to the San Francisco Board of Supervisors in 1977, but he had not even served a full year in office when he was shot by a homophobic fellow supervisor. Milk's assassination at the age of forty-eight made him the most famous gay man in modern history; twenty years later Time magazine included him on its list of the hundred most influential individuals of the twentieth century.

Before finding his calling as a politician, however, Harvey variously tried being a schoolteacher, a securities analyst on Wall Street, a supporter of Barry Goldwater, a Broadway theater assistant, a bead-wearing hippie, the operator of a camera store and organizer of the local business community in San Francisco. He rejected Judaism as a religion, but he was deeply influenced by the cultural values of his Jewish upbringing and his understanding of anti-Semitism and the Holocaust. His early influences and his many personal and professional experiences finally came together when he decided to run for elective office as the forceful champion of gays, racial minorities, women, working people, the disabled, and senior citizens. In his last five years, he focused all of his tremendous energy on becoming a successful public figure with a distinct political voice.

About Jewish Lives: 

Jewish Lives is a prizewinning series of interpretative biography designed to explore the many facets of Jewish identity. Individual volumes illuminate the imprint of Jewish figures upon literature, religion, philosophy, politics, cultural and economic life, and the arts and sciences. Subjects are paired with authors to elicit lively, deeply informed books that explore the range and depth of the Jewish experience from antiquity to the present.

In 2014, the Jewish Book Council named Jewish Lives the winner of its Jewish Book of the Year Award, the first series ever to receive this award.

More praise for Jewish Lives:

"Excellent" –New York Times

"Exemplary" –Wall Street Journal

"Distinguished" –New Yorker

"Superb" –The Guardian
Praise For Harvey Milk: His Lives and Death (Jewish Lives)…
"Faderman has a gloriously fanatical commitment to illuminating and commemorating her subjects. . . . Any revolutionary would be lucky to stand in a light so steady, so searching, and so sure."—Kenji Yoshino, New York Times Book Review, on The Gay Revolution
"Faderman's narrative mixes the personal and the political with great skill; subtly displaying how at a fundamental level, fighting for collective political rights is really just a human yearning for personal happiness, which usually has its roots in compassion."—JP O'Malley, Irish Sunday Independent
"Lillian Faderman has particularly interesting things to say about three themes: Milk's Jewish background, his populist politics, and his death."—Alan David, Jewish Chronicle
"Thanks to Lillian Faderman we know also know about Harvey the secular Jew, who renounced his faith but remained influenced and inspired by liberal Jewish values."—Peter Tatchell, Spectator
"A multifaceted portrait of a complicated man."—John McMurtrie, San Francisco Chronicle
"Faderman does a fantastic job at reanimating a story that reminds us that people can be truly tolerant—with the exception of the few—and that, with will (not money), anyone can effect change. Harvey Milk as seen through fresh, highly knowledgeable eyes."—Kirkus Reviews, Starred Review
"A stirring account. . . . Faderman succeeds in painting a multifaceted portrait of a complicated man, in less than 300 pages. Milk was a famously exuberant, theatrical figure, but anyone relating his story needn't be as effusive as he was: Faderman elicits the drama of his life dispassionately, and with understatement."—John McMurtrie, San Francisco Chronicle
"This elegantly written and well-researched book recovers the Jewishness that has too often been erased or glossed over in the mythologizing of a gay icon."—Helene Meyers, Tablet
"A hopeful, moving, and uplifting read."—Times of Israel
"The theme that comes through most prominently is Milk's unflinching courage and forward thinking resolution. I found myself frequently writing in the margin of my copy: 'So ahead of his time.'"—Peter Marino, Gay and Lesbian Review
"This book might be particularly useful for inclusion in the Common Core. . . . While the murders are the dreaded climax of any story about Milk, Faderman has done some interesting examinations of Milk's legacy, and she speculates about what might have happened had he lived beyond a year into his term."—Peter Marino, Gay and Lesbian Review
"A brilliant rumination on the revolutionary political journey of Harvey Milk."—The Nation
Most Valuable Biography, The Nation's Progressive Honor Roll 2018
Finalist in the 2018 National Jewish Book Award, biography category
 
Selected as one of the Top Ten Titles for the 2018 Over the Rainbow Booklist, sponsored by the GLBT Round Table of the American Library Association
Finalist in the 2019 Lammys Awards, Gay Memoir/Biography category
Finalist for the 2019  Randy Shilts Award for Gay Nonfiction, sponsored by the Publishing Triangle
"Meticulously researched and beautifully written, Lillian Faderman's Harvey Milk is a revelation. This insightful work provides context to Milk's life as a gay icon and illuminates how his experience was deeply informed by his own Jewish identity."—Cleve Jones, author of When We Rise: My Life in the Movement
Yale University Press, 9780300222616, 304pp.
Publication Date: May 22, 2018
About the Author
Lillian Faderman is a distinguished scholar of LGBT and ethnic history and literature. She is the author of The Gay Revolution.