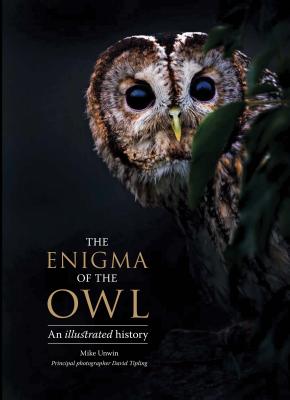 The Enigma of the Owl (Hardcover)
An Illustrated Natural History
Yale University Press, 9780300222739, 288pp.
Publication Date: February 7, 2017
* Individual store prices may vary.
Description
A rare invitation into the mysterious lives of owls around the world, with spectacularly revealing photographs and fascinating details

Perhaps no other creature has so compelling a gaze as the owl. Its unblinking stare mesmerizes; its nocturnal lifestyle suggests secrets and mystery. This lavishly illustrated book celebrates owls from every corner of the world and offers abundant details on fifty-three of the most striking and interesting species, from the tiny Elf Owl of southwestern American deserts to the formidable Blakiston's Fish Owl, the largest of all owls.
 
Mike Unwin has long studied and admired these remarkable birds from cold northern forests to tropical rivers and beyond. He explains how owls evolved into the supreme feathered predators of the night, and he examines their breeding and hunting behaviors, unusual calls, and the cultural myths and superstitions that surround different species. More than two hundred dramatic color photographs in the wild, taken or selected by David Tipling, capture the wondrous beauty of each owl and the drama of life in its own home region. 
About the Author
Mike Unwin is an award-winning author of numerous books and articles on natural history and travel. The British Guild of Travel Writers named him UK Travel Writer of the Year in 2016. He lives in Brighton, UK. David Tipling is a world-renowned wildlife photographer and author whose many accolades include the designation European Nature Photographer of the Year (2002). He lives in Norfolk, UK.
Praise For The Enigma of the Owl: An Illustrated Natural History…
"Excellent for armchair owling, general reference and the pleasure of looking at photographs of birds that manage uncannily to look like old friends transfigured by feathers—even with mice, frogs or snakes dangling from their beaks. Written with lively, unforced erudition by nature writer Mike Unwin, The Enigma of the Owl is a beautiful book, with 200 extraordinary images of hunting, nesting, flying and perching owls."—Jonathan Rosen, Wall Street Journal
"The Enigma of the Owl, by Mike Unwin with photographs by David Tipling, explores the diversity, beauty and ecological importance of these nocturnal birds of prey."—Rachel Nuwer, New York Times
"This book is sure to delight any nature lover."—Wall Street Journal, Best Books to Give the Nature Lover in Your Life 2017
"Thank you, David Tipling, for the sumptuous, endearing and terrifying photographs of these uncanny creatures in The Enigma of the Owl: An Illustrated Natural History. And Mike Unwin's authoritative descriptions of the owl way of life are fascinating."—Dominique Browning, New York Times Book Review
"Visually stunning and scientifically sound, this title will appeal to owl enthusiasts as well as the casual browser."—Booklist
"Mike Unwin — who keenly narrates The Enigma of the Owl: An Illustrated Natural History — brings the right measure of tempered awe, clarity and glee to the project. He lets the owl's story speak for itself, with help from his pen and easy sensibility, all the while infusing his writing with the right measure of starchy erudition. . . . Just as there is not a muzzy word in the text, not one of the 200 photographs is unworthy of a museum home. David Tipling stands this side of perfection."—Peter Lewis, Star Tribune
"With their straight-on stares and nocturnal habits, owls are among the most intriguing and inscrutable of animals. In this large-format book, more than 200 photographs of owls in the wild and essays by nature writer Unwin help to demystify the creatures. The pictures, taken or selected by Tipling, catch owls on the wing, in the nest and on the hunt, providing a close-up look at dozens of species. Among the highlights: the Eurasian eagle owl, which can weigh up to 10 pounds and take down foxes and eagles, and the great grey owl, which, by sound alone, can locate and catch prey creeping underneath a layer of snow up to 30 feet below the bird's perch in a tree."—Scientific American
"Unwin and Tipling have created a visual feast on the beauty and strength of these mysterious creatures. Birding enthusiasts are sure to find it a captivating read, but the photography alone is enough to delight anyone interested in nature."—Hope Murnane Foley, Providence Journal
Included on the 2017 Best Book List by the American Association for the Advancement of Science (AAAS)
"By grouping select owls geographically . . . Unwin and Tipling enable better appreciation of their unique adaptive capacities. I found I was on a worldwide tour and savoring each species group!"—Tony Angell, from the Foreword