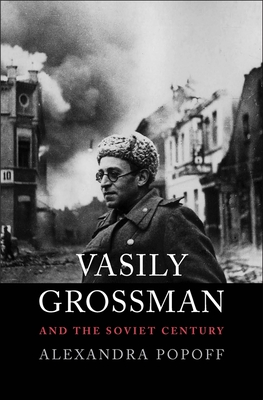 Vasily Grossman and the Soviet Century (Hardcover)
Yale University Press, 9780300222784, 424pp.
Publication Date: March 26, 2019
Other Editions of This Title:
Paperback (8/14/2020)
Compact Disc (3/26/2019)
MP3 CD (3/26/2019)
Compact Disc (3/26/2019)
* Individual store prices may vary.
Description
The definitive biography of Soviet Jewish dissident writer Vasily Grossman
 
If Vasily Grossman's 1961 masterpiece, Life and Fate, had been published during his lifetime, it would have reached the world together with Pasternak's Doctor Zhivago and before Solzhenitsyn's Gulag. But Life and Fate was seized by the KGB. When it emerged posthumously, decades later, it was recognized as the War and Peace of the twentieth century. Always at the epicenter of events, Grossman (1905–1964) was among the first to describe the Holocaust and the Ukrainian famine. His 1944 article "The Hell of Treblinka" became evidence at Nuremberg. Grossman's powerful anti‑totalitarian works liken the Nazis' crimes against humanity with those of Stalin. His compassionate prose has the everlasting quality of great art. Because Grossman's major works appeared after much delay we are only now able to examine them properly. Alexandra Popoff's authoritative biography illuminates Grossman's life and legacy.
About the Author
Alexandra Popoff is a former Moscow journalist, an expert on Russian literature and cultural history, and the author of several literary biographies, including the award-winning Sophia Tolstoy, and The Wives, a Wall Street Journal best nonfiction title for 2012.
Praise For Vasily Grossman and the Soviet Century…
"Popoff's summary of Grossman's life in the 1930s is striking. [. . .] clear and well-structured"—Robert Chandler, Spectator
"Alexandra Popoff's biography is crisp and comprehensive, deftly interweaving Grossman's personal life with the momentous events he experienced"—John Thornhill, Financial Times
 "[A] fine biography"—William Boyd, Sunday Times
"Gripping . . . As told by Popoff, the stories behind Grossman's stories, particularly of censors' efforts to alter and limit them, are fascinating."—William Taubman, New York Times
"[Popoff] tells Grossman's story with sensitivity and a keen understanding of his world, drawing on little-known archival collections to produce what must be considered the definitive biography."—Douglas Smith, The Wall Street Journal
"[Popoff's] emphasis on what she calls "the connection between totalitarian regimes and political ignorance" not only applies to Soviet Russia but constitutes a warning for the United States" —William Taubman, International New York Times
"This well-researched portrait should introduce many new readers to a significant writer whose stand against totalitarian ideology, as Popoff's epilogue on Putin's veneration of Stalin demonstrates, has taken on new relevance and urgency today."—Publishers Weekly
"Soviet expert Alexandra Popoff presents [Grossman's]  life with a degree of detail and compassion not yet seen in any English-language publication. Her portrait provides not only the best look yet at this great author's working life but also a stirring study of one man's lifelong fight against totalitarian rule."—The Christian Science Monitor
"Alexandra Popoff investigates Grossman's career as a war correspondent and fiction writer, considers the personal tragedies that befell him over the course of his fifty-eight-year life, and examines what is sure to be his lasting legacy as a uniquely compelling anti-despotic voice."—The New Criterion
"Comprehensive . . . and of interest to students of literature, journalism, and history alike."—Kirkus Reviews (starred review)
"Alexandra Popoff's authoritative biography illuminates Grossman's life and legacy."—Reading Religion
"An excellent biography of Grossman . . . that offers no striking psychological portrait of its subject or radical reading of his works. Instead it is what I think of as a Dragnet, or Jack Webb, biography—'Just the facts, Ma'am'—the accretion of which is no small accomplishment about a life lived almost entirely in the murky and heavily censored atmosphere of the Soviet Union."—Joseph Epstein, Commentary
"In Vasily Grossman and the Soviet Century we find a complicated figure."—Shelia Fitzpatrick, The Nation
"Vasily Grossman and the Soviet Century provides a readable and fascinating account of an author . . . [who] was one of totalitarianism's sharpest critics. . . . Popoff's book serves to illuminate the paradoxes and deep humanity of a figure long overlooked by English-speaking readers."—B.M. Sutcliffe, Choice
Longlisted for the 2019 Cundill History Prize sponsored by McGill University
  Winner of the the Canadian Jewish Literary Award in the Biography category, sponsored by the Koschitzky Centre for Jewish Studies
Finalist in the 2019 National Jewish Book Awards, Biography category
Winner of the Jewish Studies Literary Awards in Biography, sponsored by The Canadian Jewish Literary Awards
"Alexandra Popoff has produced a magnificent biography of the great Soviet Jewish writer and journalist Vasily Grossman. Vasily Grossman and the Soviet Century does justice to Grossman's outspoken eloquence and defiance as one of the twentieth century's foremost witnesses to the twin evils of Nazism and Stalinism."—Joshua Rubenstein, author of The Last Days of Stalin
"A harrowing tale of cruelty and courage, this unflinching study of Vasily Grossman's life in a totalitarian society is a timely reminder of how all despots thrive on fear and lies. Alexandra Popoff has given us an invaluable autopsy of various Soviet monsters, including the enigmatic Stalin himself, yet in her inspiring account of Grossman's efforts to resist tyranny, she has also created an unforgettable portrait of one brave soul's triumph over a soulless state."—Michael Shelden, author of Orwell: The Authorized Biography