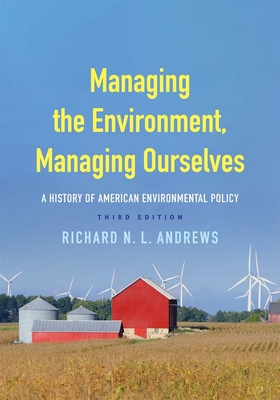 Managing the Environment, Managing Ourselves (Paperback)
A History of American Environmental Policy
Yale University Press, 9780300222913, 536pp.
Publication Date: March 17, 2020
* Individual store prices may vary.
Description
In the third edition of this definitive book, Richard N. L. Andrews looks back at four centuries of American environmental policy, showing how these policies affect contemporary environmental issues and public policy decisions, and identifying key policy challenges for the future. Andrews crafts a detailed and contextualized narrative of the historical development of American environmental policies and institutions. This volume presents an extensively revised text, with increased detail on the fifty-year history of the modern environmental policy era and is updated through the Obama and Trump administrations.
About the Author
Richard N. L. Andrews is professor emeritus of environmental policy at the University of North Carolina at Chapel Hill. He has written, taught, and advised on U.S. environmental policy for fifty years and has served on multiple national environmental policy committees.
 
Praise For Managing the Environment, Managing Ourselves: A History of American Environmental Policy…
"Masterfully captures the origins and evolution of American environmental policy over four centuries."—Rupert Cutler, Former Assistant Secretary of Agriculture and President of Defenders of Wildlife
 
"More comprehensive and inclusive than any other study of the historical evolution of U.S. environmental policy and an extraordinary resource for both research and teaching."—Sheldon Kamieniecki, University of California, Santa Cruz
 
"Managing the Environment, Managing Ourselves is a tour de force, capturing centuries of U.S. environmental policy."—Edward Weber, author of Bringing Society Back In: Grassroots Ecosystem Management, Accountability, and Sustainable Communities
"Managing the Environment, Managing Ourselves is both important and timely. Richard Andrews brings together exquisite details to present a broad conception of environmental policy, including natural resources, agriculture, pollution, transportation, economic development, and energy."—Michelle Pautz, Professor of Political Science, University of Dayton, co-author of US Environmental Policy in Action
 
"Richard Andrews skillfully presents a comprehensive history of U.S. environmental management policy from the colonial era to the present day, allowing readers to understand environmental policy in the context of its broad history."—Dee Eggers, University of North Carolina, Asheville