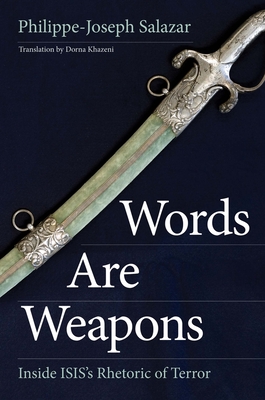 Words Are Weapons (Hardcover)
Inside ISIS's Rhetoric of Terror
Yale University Press, 9780300223224, 256pp.
Publication Date: September 12, 2017
* Individual store prices may vary.
Description
The first book to offer a rigorous, sophisticated analysis of ISIS's rhetoric and why it is so persuasive

ISIS wages war not only on the battlefield but also online and in the media. Through a close examination of the words and images ISIS uses, with particular attention to the "digital caliphate" on the web, Philippe-Joseph Salazar theorizes an aesthetic of ISIS and its self-presentation. As a philosopher and historian of ideas, well versed in both the Western and the Islamic traditions, Salazar posits an interpretation of Islam that places speech--the profession of faith--at the center of devotion and argues that evocation of the simple yet profound utterance of faith is what gives power to the rhetoric that ISIS and others employ. At the same time, Salazar contends that Western discourse has undergone a "rhetorical disarmament." To win the fight against ISIS and Islamic extremism, Western democracies, their media, politicians, and counterterrorism agencies must consider radically changing their approach to Islamic extremism.
About the Author
Philippe-Joseph Salazar is Distinguished Professor of Rhetoric in the Faculty of Law at the University of Cape Town and past Director in Rhetoric and Democracy at the Collège International de Philosophie in Paris. In 2008 he received the Harry Oppenheimer Fellowship Award, the top prize for research on the African continent. In 2015 he received the Prix Bristol des Lumières for the French edition of this book. Dorna Khazeni was a finalist for the PEN USA Translation Award. She has published her translations from French in Vanity Fair, Harper's, Zoetrope AllStory, The Believer, and elsewhere.