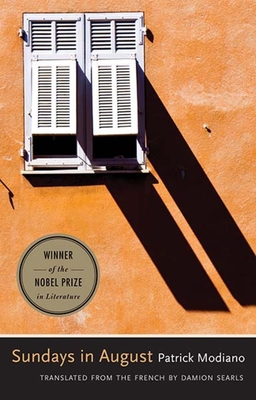 Sundays in August (The Margellos World Republic of Letters)
Paperback

* Individual store prices may vary.
Description
From beloved storyteller and Nobel Prize winner Patrick Modiano, a masterly and gripping crime novel set in picturesque Nice on the French Riviera

Stolen jewels, black markets, hired guns, crossed lovers, unregistered addresses, people gone missing, shadowy figures disappearing in crowds, newspaper stories uncomfortably close and getting closer . . . this ominous novel is Patrick Modiano's most noirish work to date. Set in Nice—a departure from the author's more familiar Paris—this novel evokes the bright sun and dark shadow of the Riviera. Modiano's trademark ability to create a haunting atmosphere is here on full display: readers descend precipitously into a world of mystery, uneasiness, inevitability.
 
A young couple in hiding keeps close watch over a notorious diamond necklace known as the Southern Cross. Its provenance is murky, its whereabouts known only to our hero and heroine, who find themselves trapped by its potential value—and its ultimate cost. Deftly Modiano reaches further and further into the past, revealing the secret histories of the two even as the pressurized present threatens to overwhelm them.
Praise For Sundays in August (The Margellos World Republic of Letters)…
"Modiano uses the fabled light of the Riviera the way Raymond Carver uses California sunshine: its harshness accentuates the shadows."—Robyn Creswell, New York Review of Books

"Nobel Prize–winner Modiano does more with less in this subtle and haunting noir. He places the reader in uncertain terrain from the outset . . . Modiano makes the reader work to put the puzzle pieces in order, while maintaining a convincing atmosphere of tension and dread."—Publishers Weekly (starred review)

"While I have admired Modiano's books, to varying degrees, I had not fallen in love with any of his work, until now: his crime novel Sundays in August snuck up on me and struck me deeply. I loved it!"—Trevor Berrett, The Mookse and the Gripes

"Sundays in August is as twisted and bleak—and, ultimately, satisfying—as any noir, a fatalistic sense of inevitability tinged with just enough uncertainty hanging over it."—M.A. Orthofer, Complete Review

"One of Modiano's most unusual novels, Sundays in August is darkly fun to read without being 'light,' and thoughtful without being 'heavy,' always intriguing in its views of a young main character trying to figure out his confusing world. Sensitively translated by Damion Searles."—Mary Whipple, Seeing the World Through Books


Yale University Press, 9780300223330, 168pp.
Publication Date: August 29, 2017
About the Author
Internationally renowned author Patrick Modiano has received many prestigious literary awards, among them the 2014 Nobel Prize for Literature. Damion Searls has translated thirty books from German, French, Norwegian, and Dutch, including Patrick Modiano's Young Once.