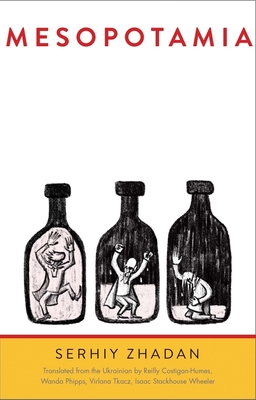 Mesopotamia (The Margellos World Republic of Letters)
Paperback

* Individual store prices may vary.
Description
A unique work of fiction from the troubled streets of Ukraine, giving invaluable testimony to the new history unfolding in the nation's post-independence years

"One of the most astounding novels to come out of modern Ukraine. Mesopotamia is seductive, twisted, brilliant, and fierce."—Gary Shteyngart, author of Little Failure and Absurdistan

This captivating book is Serhiy Zhadan's ode to Kharkiv, the traditionally Russian-speaking city in Eastern Ukraine where he makes his home. A leader among Ukrainian post‑independence authors, Zhadan employs both prose and poetry to address the disillusionment, complications, and complexities that have marked Ukrainian life in the decades following the Soviet Union's collapse. His novel provides an extraordinary depiction of the lives of working-class Ukrainians struggling against an implacable fate: the road forward seems blocked at every turn by demagogic forces and remnants of the Russian past. Zhadan's nine interconnected stories and accompanying poems are set in a city both representative and unusual, and his characters are simultaneously familiar and strange. Following a kind of magical-realist logic, his stories expose the grit and burden of stalled lives, the universal desire for intimacy, and a wistful realization of the off-kilter and even perverse nature of love.
Praise For Mesopotamia (The Margellos World Republic of Letters)…
"Mesopotamia is an impressive collage, less of a city than of its inhabitants, mostly in their twenties and thirties, struggling to make their way through a post-Soviet Ukraine that is still trying to figure itself out."—M.A. Orthofer, Complete Review

"Unlike Joyce's Dublin, the cradle of Zhadan's civilization is a place of refuge for young people fleeing hardscrabble lives in the provinces, and a hardscrabble home for natives buoyed by desire yet adrift amid the flotsam of a spent empire.  The men and women in these comic and heartfelt pages endure the dynamic paralysis that comes over those who are all dressed up with nowhere to go.  They aspire, struggle, fight, fail, drink, fuck, and then they fight some more.  Amid the city's detritus, they refuse to become part of it by continuing to love and dream.  There is nothing marginal about them.  They insist on being seen, heard, understood.  They will charm and madden you.  They will haunt your dreams, and you will never forget them."—Askold Melnyczuk, author of House of Widows

"To say that Serhiy Zhadan is a poet, a novelist, a rock star, a protester, a symbol of his country's desire for freedom and change, is to say the truth—but what is truth? Zhadan is a literary master of enormous force. At times he combines the energy of Jack Kerouac and atmospheric spell of Isaac Babel, at other times he is a balladeer of his country's struggle. 'Such strange things have been happening to us,' he writes, of the streets where 'winters are not like winters / winters live under assumed names.' In Mesopotamia's nine stories and thirty poems we find ourselves in the newly independent Ukraine, stunned by its grit, its rough backbone—and its tenderness. What do we discover here? That 'Light is shaped by darkness / and it's all up to us.' We also discover that Serhiy Zhadan is one of those rare things—almost impossible to find now in the West—a national bard, a chronicler. This is a book to live with."—Ilya Kaminsky

"Zhadan is the rock star of lyrical melancholy, and Mesopotamia is not just a book of short stories but a cosmos with Kharkiv-Babylon at its center. We meet its lovesick citizens at weddings and funerals; their visceral, fantastical lives unfold in the intensely prophetic atmosphere of the upcoming war."— Valzhyna Mort, author of Factory of Tears

"With tales at once earthy and phantasmagorical, sentimental and anarchic, Zhadan is an exhilarating chronicler of a new kind of borderlands."—Sana Krasikov

"Serhiy Zhadan's dazzling novel—here fantastically well translated—evokes voices that get under our skin and take us into the rich inner life of people about whom we have long known nothing."—Marci Shore, author of The Ukrainian Night: An Intimate History of Revolution


Yale University Press, 9780300223354, 328pp.
Publication Date: May 1, 2018
About the Author
Serhiy Zhadan has received several international literature prizes and has twice won BBC Ukraine's Book of the Year award. His books have been translated into more than a dozen languages. Reilly Costigan-Humes lives and works in Moscow, and translates literature from the Ukrainian and Russian. Isaac Stackhouse Wheeler is a translator and poet from New England whose work has appeared in numerous journals. Virlana Tkacz and Wanda Phipps have been translating Ukrainian poetry as a team since 1989 and have received an NEA Translations Fellowship for their work on Zhadan's poetry.
or
Not Currently Available for Direct Purchase