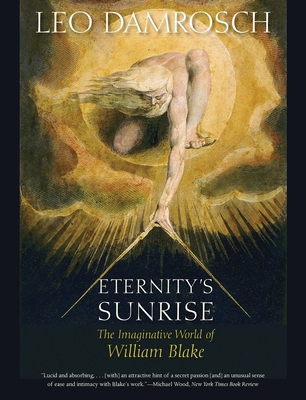 Eternity's Sunrise
The Imaginative World of William Blake
Paperback

* Individual store prices may vary.
Other Editions of This Title:
Hardcover (10/27/2015)
Description
In this richly illustrated portrait, a prize-winning biographer surveys the entire sweep of William Blake's creative work while telling the story of his life

William Blake, overlooked in his time, remains an enigmatic figure to contemporary readers despite his near canonical status. Out of a wounding sense of alienation and dividedness he created a profoundly original symbolic language, in which words and images unite in a unique interpretation of self and society. He was a counterculture prophet whose art still challenges us to think afresh about almost every aspect of experience—social, political, philosophical, religious, erotic, and aesthetic. He believed that we live in the midst of Eternity here and now, and that if we could open our consciousness to the fullness of being, it would be like experiencing a sunrise that never ends.
 
Following Blake's life from beginning to end, acclaimed biographer Leo Damrosch draws extensively on Blake's poems, his paintings, and his etchings and engravings to offer this generously illustrated account of Blake the man and his vision of our world. The author's goal is to inspire the reader with the passion he has for his subject, achieving the imaginative response that Blake himself sought to excite. The book is an invitation to understanding and enjoyment, an invitation to appreciate Blake's imaginative world and, in so doing, to open the doors of our perception.
Praise For Eternity's Sunrise: The Imaginative World of William Blake…
"Lucid and absorbing . . . [with] an attractive hint of a secret passion [and] an unusual sense of ease and intimacy with Blake's work."—Michael Wood, New York Times Book Review

"[An] excellent book, . . . [aiming] to be introductory in the best sense: 'to help nonspecialists appreciate Blake's profoundly original vision and . . . the symbols in which he conveyed it.' . . . Scores of illustrations and color plates give us a small portion of Blake's countless prints, engravings and watercolor designs, and his career is treated with admirable fullness."—William Pritchard, Wall Street Journal

"Wise and original."—Rosie Schaap, New York Times Magazine

"An outstanding book . . . [combining] learned analysis with a warm and conversational style. . . . [Its] primary distinction . . . is its intricate analysis of the relation between Blake's verse and his vivid paintings and etchings — beautifully reproduced here in abundant color plates and illustrations."—Michael Lindgren, Washington Post

"Damrosch's readings are nuanced, sensitive, and deeply perceptive, touched with wonder at the poet's originality and alive to the ways that Blake's beliefs presented 'a wide-ranging challenge to orthodox morality.' With generous illustrations, including a gallery of breathtaking full-color plates, Damrosch's study will build an appreciation among scholars and general readers alike for Blake's 'vast, complicated myth' and reinforce his place in the Western canon as a 'profound thinker' and creative genius 'not in a single art but in two.'"—Publishers Weekly, starred review

"Acclaimed scholar and biographer Damrosch brings decades of study to this analysis of William Blake's art, poetry, religion, and philosophy. . . . The author's study of the man and clear style makes this much easier to read and tempts readers to seek out more. . . . Damrosch expertly navigates Blake's 'questing imagination,' which 'has never ceased to startle and inspire.' General readers looking for a challenge will love this book and will dive into Blake's work."—Kirkus Reviews, starred review

"As I read the first beautifully written chapters of Leo Damrosch's Eternity's Sunrise: The Imaginative World of William Blake, I was inspired to look even more carefully at Blake's composite art. Damrosch's prose flows, filled with imaginative lucidity."—Susanne Sklar, Arts Fuse

"[An] intimate book, part biography, part critical reflection, and part a scholar's testimony to the experience of actually teaching Blake over many years. . . . Damrosch writes movingly of his own convictions. . . . The main sweep of his book carries the reader as steadily as possible into the increasingly complex world of Blake's private mythology, while ingeniously relating it to his illuminated manuscripts (many beautifully reproduced in color, and some decidedly weird). . . . Damrosch keeps a fine eye on the revealing biographical detail that continuously anchors Blake in the real world."—Richard Holmes, New York Review of Books

"[Damrosch] offers this insightful book as 'an invitation to understanding and enjoyment.'. . . The book also includes nearly 100 reproductions—with 40 color plates—of Blake's stunning artwork. . . . Damrosch succeeds in making a notoriously difficult poet and artist more accessible. . . . His sharp insights clarify both the context and originality of Blake's art, and his passion for Blake's work is often magnetic. Readers who accept Damrosch's generous invitation will better understand and more deeply enjoy the enduring distinctiveness of Blake's vision."—Christopher J. Scalia, Weekly Standard

"Illuminating and absorbing. . . . In Damrosch's hands Blake emerges as behemoth and mystic. We see the powerful, insatiable, stubborn commitment to calling which defined Blake's life, and we also are helped to see freshly the art Blake made to accompany his poems."—Tess Taylor, LitHub

"Thoughtful and thought-provoking . . . . [Damrosch] explains early on that his book is not a straight biography or thorough guide; instead, it is 'an invitation to understanding and enjoyment,' one that unquestionably meets those goals. . . . Of particular value in Damrosch's book is the inclusion of a series of 40 full-color plates, in addition to black-and-white figures throughout the text. In that sense, Eternity's Sunrise somewhat mirrors Blake's innovation of combining words and images into 'illuminated books.' In this case, we can admire two great minds at once."—Grace Labatt Parazzoli, Pasatiempo: The Santa Fe New Mexican's Weekly Magazine of Arts, Entertainment & Culture

"Thoroughly illustrated with nearly 100 images, 40 in full color, the volume combines biographical detail with an illuminating reading of Blake's work. . . . The author offers fresh, provocative interpretations of some of Blake's works and of his relationship to politics, religion, women, and science. . . . Like a good film trailer, this book generates a desire to learn more."—Choice

"[A] beautiful book. . . . [Damrosch] provides us with a captivating, complex account of Blake's struggles to make a powerful vision out of the divisions and difficulties of life."—Jeffrey N. Cox, Studies in English Literature 1500-1900

"An engaging and illuminating study that presents an inspiring vision of Blake."—Diane Piccitto, Modern Philology

"For any general reader who seeks a more in-depth engagement with Blake's work, for budding Romanticists who want to find that golden thread into Blake's complex mythology, and for longtime Blake readers who would appreciate Damrosch's deft handling of the art and poetry that they love."—James Rovira, European Romantic Review

"For someone wondering what all the hubbub is about concerning Blake, Damrosch's book may be just the thing."—R. Paul Yoder, Blake: An Illustrated Quarterly
 

"Damrosch's winning devotion is to make Blake's unique, quirky genius accessible and engaging to those outside of Blakeworld . . . a grand gambit."—Susan J. Wolfson, Journal of Romanticism

New York Times Book Review, Editors' Choice

A Kirkus Reviews Best Book of 2015

Finalist for the 2015 National Book Critics Circle award in the criticism category

Shortlisted for the 2016 Christian Gauss Award given by the Phi Beta Kappa Society

"This astute, generously illustrated study is an excellent introduction to William Blake. It will help both new and experienced readers to understand Blake as poet, painter, engraver, printer—and as a person."—Andrew Lincoln, Queen Mary University of London

"Leo Damrosch's luminous new book on William Blake forsakes esoteric scholarship and addresses itself to the common reader who is invited to a festive celebration of the great English poet who was also an extraordinary visual artist and a profound and original thinker."—Harold Bloom



Yale University Press, 9780300223644, 344pp.
Publication Date: October 25, 2016
About the Author
Leo Damrosch is Research Professor of Literature, Harvard University. His previous books include Jonathan Swift: His Life and His World, winner of the National Book Critics Circle Award in biography and a finalist for the Pulitzer Prize in biography. He lives in Newton, MA.