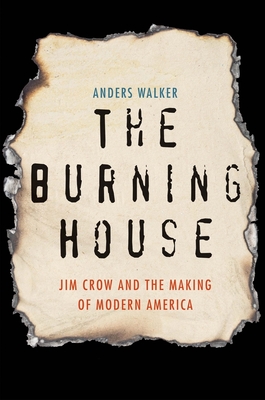 The Burning House
Jim Crow and the Making of Modern America
Hardcover

* Individual store prices may vary.
Description
A startling and gripping reexamination of the Jim Crow era, as seen through the eyes of some of the most important American writers

"Walker has opened up a fresh way of thinking about the intellectual history of the South during the civil-rights movement."—Robert Greene, The Nation

In this dramatic reexamination of the Jim Crow South, Anders Walker demonstrates that racial segregation fostered not simply terror and violence, but also diversity, one of our most celebrated ideals. He investigates how prominent intellectuals like Robert Penn Warren, James Baldwin, Eudora Welty, Ralph Ellison, Flannery O'Connor, and Zora Neale Hurston found pluralism in Jim Crow, a legal system that created two worlds, each with its own institutions, traditions, even cultures. The intellectuals discussed in this book all agreed that black culture was resilient, creative, and profound, brutally honest in its assessment of American history. By contrast, James Baldwin likened white culture to a "burning house," a frightening place that endorsed racism and violence to maintain dominance. Why should black Americans exchange their experience for that? Southern whites, meanwhile, saw themselves preserving a rich cultural landscape against the onslaught of mass culture and federal power, a project carried to the highest levels of American law by Supreme Court justice and Virginia native Lewis F. Powell, Jr.

Anders Walker shows how a generation of scholars and judges has misinterpreted Powell's definition of diversity in the landmark case Regents v. Bakke, forgetting its Southern origins and weakening it in the process. By resituating the decision in the context of Southern intellectual history, Walker places diversity on a new footing, independent of affirmative action but also free from the constraints currently placed on it by the Supreme Court. With great clarity and insight, he offers a new lens through which to understand the history of civil rights in the United States.
Praise For The Burning House: Jim Crow and the Making of Modern America…
"A law professor takes on the history of racial integration in the United States by focusing on well-known intellectuals who questioned whether integration was wise or desirable for African-Americans. The intellectuals are primarily writers, black and white: James Baldwin, Ralph Ellison, Zora Neale Hurston, Alice Walker, Richard Wright, William Faulkner, Harper Lee, Flannery O'Connor, Robert Penn Warren, and Eudora Welty. . . . Walker skillfully presents his interpretations of his subjects' writing."—
Kirkus Reviews
"[A] fascinating intellectual history of integration debates."—Elias Rodriques,
Bookforum
"Provocative. . . . A valuable contribution to our understanding of diversity, identity, and jurisprudence."—Nathanael Blake,
The Federalist
"Walker has opened up a fresh way of thinking about the intellectual history of the South during the civil-rights movement, and he also asks some tough questions about how we should remember its legacy."—Robert Greene,
The Nation
"Sheds important light on a forgotten piece of intellectual history in the Jim Crow South."—Jeremy Ray Jewell,
The Arts Fuse
"An absolutely first-rate and blazingly original work of scholarship. Walker's sagacious and path-breaking analysis will be lauded and embraced by scholars in multiple disciplines."—David J. Garrow, Pulitzer Prize-winning author of
Bearing the Cross
and
Rising Star
"Highly original and made vivid by close readings of both well-known and little-known texts, The Burning House traces the emergence of 'Southern pluralist views' that 'respected diversity and also tolerated inequality.'"— Werner Sollors, Harvard University 
"Beautifully written and well researched, The Burning House examines Jim Crow through the lenses of culture, community and intellectual history and makes an invaluable contribution to studies of race and American history."—Tomiko Brown-Nagin, author of the Bancroft prize-winning Courage to Dissent
"Anders Walker provocatively explores how and why a star-crossed array of white and black southern writers seriously probed and delivered a critique of racial integration. He goes where most literary historians have not gone: to the ironic, complex zone of imagination on both sides of the color line among many of America's greatest writers. This work is a must read for those interested in questions around race, modernism, and pluralism."—David W. Blight, Yale University and author of
Frederick Douglass: American Prophet
.
"In this bold book that is sure to stir controversy, Anders Walker contends ideas about racial diversity that debuted in the literary world ultimately informed the legal world. Walker's arresting intellectual history also speaks unmistakably to our incendiary present."—Justin Driver, University of Chicago Law School
Yale University Press, 9780300223989, 304pp.
Publication Date: March 20, 2018
About the Author
Anders Walker teaches law and history at Saint Louis University and is the author of The Ghost of Jim Crow: How Southern Moderates Used Brown v. Board of Education to Stall Civil Rights.