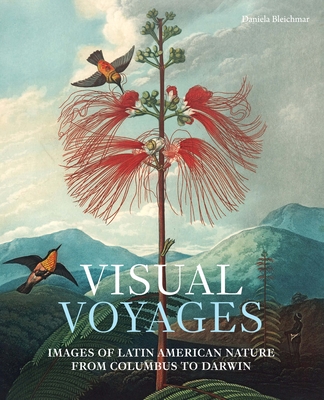 Visual Voyages
Images of Latin American Nature from Columbus to Darwin
Hardcover

* Individual store prices may vary.
Description
An unprecedented visual exploration of the intertwined histories of art and science, of the old world and the new
From the voyages of Christopher Columbus to those of Alexander von Humboldt and Charles Darwin, the depiction of the natural world played a central role in shaping how people on both sides of the Atlantic understood and imaged the region we now know as Latin America. Nature provided incentives for exploration, commodities for trade, specimens for scientific investigation, and manifestations of divine forces. It also yielded a rich trove of representations, created both by natives to the region and visitors, which are the subject of this lushly illustrated book. Author Daniela Bleichmar shows that these images were not only works of art but also instruments for the production of knowledge, with scientific, social, and political repercussions. Early depictions of Latin American nature introduced European audiences to native medicines and religious practices. By the 17th century, revelatory accounts of tobacco, chocolate, and cochineal reshaped science, trade, and empire around the globe. In the 18th and 19th centuries, collections and scientific expeditions produced both patriotic and imperial visions of Latin America.  
Through an interdisciplinary examination of more than 150 maps, illustrated manuscripts, still lifes, and landscape paintings spanning four hundred years,
Visual Voyages
establishes Latin America as a critical site for scientific and artistic exploration, affirming that region's transformation and the transformation of Europe as vitally connected histories.
Published in association with the Huntington Library, Art Collections, and Botanical Gardens

Exhibition Schedule:
Accompanies the exhibition Visual Voyages: Images of Latin American Nature from Columbus to Darwin at the Huntington Library, San Marino, California, 16 September 2017—8 January 2018.
Praise For Visual Voyages: Images of Latin American Nature from Columbus to Darwin…

"Well made and full of high-quality, richly colored illustrations, this volume will be useful to those interested in the history of science, Latin America, scientific illustration, or the art of nature."—Choice

"Deliciously illustrated. . . . Bleichmar's lucid, scholarly text, coupled with the numerous illustrations (many of seldom-seen objects), does solidly place this publication in an academic realm. At the same time, it would be appropriate for readers who are seeking an introduction to the history or natural environment of Latin America. It is a visually stimulating production and could easily illuminate a discussion of the history of Latin American art after European contact."—Clayton C. Kirking, ARLIS/NA Reviews

"New grand narratives such as this—complicated, nuanced, and cutting-edge—are needed if the fruits of academic labor are to inform popular consciousness. Visual Voyages is a work of great erudition, lightly worn, and a valuable addition to university syllabi and to the personal libraries of specialist and general readers."—Surekha Davies, Hispanic American Historical Review

"A vast study of the visual and material culture of what is now called Latin America between 1492 and 1859. . . . Exquisite. . . . I can imagine using this catalogue in an early American studies classroom, as the text offers many pedagogical entryways into studying the history of science, Latin American history, Indigenous studies, and visual studies."—Elizabeth Polcha, Early American Literature

Daniela Bleichmar"s Visual Voyages is the 2018 ALICE AWARD winner, given by the  Furthermore grants in publishing, a program of the J. M. Kaplan Fund

Honorable mention received for the 2019 ALAA-Arvey Foundation Exhibition Catalogue Award


Yale University Press, 9780300224023, 240pp.
Publication Date: October 10, 2017
About the Author
Daniela Bleichmar is associate professor of art history and history at the University of Southern California. 
or
Not Currently Available for Direct Purchase