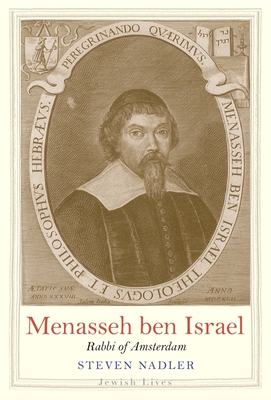 Menasseh ben Israel
Rabbi of Amsterdam (Jewish Lives)
Hardcover

* Individual store prices may vary.
Description
From the prizewinning Jewish Lives series, an illuminating biography of the great Amsterdam rabbi and celebrated popularizer of Judaism in the seventeenth century

Menasseh ben Israel (1604–1657) was among the most accomplished and cosmopolitan rabbis of his time, and a pivotal intellectual figure in early modern Jewish history. He was one of the three rabbis of the "Portuguese Nation" in Amsterdam, a community that quickly earned renown worldwide for its mercantile and scholarly vitality.
 
Born in Lisbon, Menasseh and his family were forcibly converted to Catholicism but suspected of insincerity in their new faith. To avoid the horrors of the Inquisition, they fled first to southwestern France, and then to Amsterdam, where they finally settled. Menasseh played an important role during the formative decades of one of the most vital Jewish communities of early modern Europe, and was influential through his extraordinary work as a printer and his efforts on behalf of the readmission of Jews to England. In this lively biography, Steven Nadler provides a fresh perspective on this seminal figure.

About Jewish Lives: 

Jewish Lives is a prizewinning series of interpretative biography designed to explore the many facets of Jewish identity. Individual volumes illuminate the imprint of Jewish figures upon literature, religion, philosophy, politics, cultural and economic life, and the arts and sciences. Subjects are paired with authors to elicit lively, deeply informed books that explore the range and depth of the Jewish experience from antiquity to the present.

In 2014, the Jewish Book Council named Jewish Lives the winner of its Jewish Book of the Year Award, the first series ever to receive this award.

More praise for Jewish Lives:

"Excellent." –New York Times

"Exemplary." –Wall Street Journal

"Distinguished." –New Yorker

"Superb." –The Guardian
Praise For Menasseh ben Israel: Rabbi of Amsterdam (Jewish Lives)…
"Nadler writes for a large readership [and] is masterful in creating a visual image of historical situations and bringing historical characters alive."—Alexander van der Haven, Studia Rosenthaliana

"Excellent"—Rabbi A. James Rudin, Reform Judaism

"This first-class biography . . . is highly revelatory. . . . Nadler's exceptional reclaiming of the life and times of Menasseh ben Israel – a 17th-century equivalent of Herzl for British Jews – is published in Yale University's excellent Jewish Lives series."—Colin Shindler, Jerusalem Post Magazine

"An excellent introduction to a rabbi whose fascinating life as a first-rate scholar, diplomat, and theologian warrants examination. . . . Nadler illustrates that religious history can be written in a literary style that pulls the reader in and is far from just dry and technical."—Lawrence Rabone, Reading Religion

"An engaging life and times treatment of a pivotal figure. . . . Nadler's decades of researching and teaching the history of philosophy, Jewish studies, and the humanities are put to good use."—William E. Engel, Seventeenth-Century News

"The resulting portrait is an appealing and historically-meaningful emblem, thankfully shorn of tedious moralistic superscriptions or subscriptions, a biography that allows the reader to witness a complex historical development—the dramatic improvement in Christian-Jewish relations in seventeenth-century Europe—through the portrayal of the prodigious accomplishments of its protagonist."—David H. Price, Studies in Christian-Jewish Relations

"In this lucid and engaging biography, Menasseh ben Israel emerges as a force of nature, moving swiftly and easily between the Jewish and Gentile spheres in Amsterdam. In recreating Menasseh's life, Nadler has stitched together some of the leading figures of the century into a vivid tapestry."—Russell Shorto, author of The Island at the Center of the World 

"Fluidly written, lively, and truly excellent from every point of view, this book portrays Menasseh's role in the development of Amsterdam Jewish life and learning and in the broad context of seventeenth-century Jewish-Christian intellectual relations."—Jonathan Israel, Institute for Advanced Study, Princeton


Yale University Press, 9780300224108, 312pp.
Publication Date: August 21, 2018
About the Author
Steven Nadler, a Pulitzer Prize finalist, is the author of several books, including Rembrandt's Jews and Spinoza: A Life, winner of the Koret Jewish Book Award. He is William H. Hay II Professor of Philosophy and Evjue-Bascom Professor in Humanities at the University of Wisconsin–Madison.
or
Not Currently Available for Direct Purchase