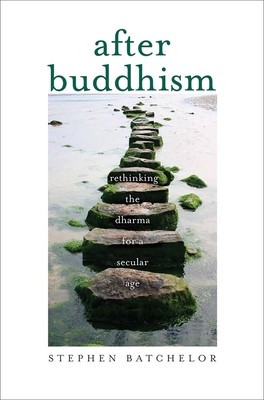 After Buddhism
Rethinking the Dharma for a Secular Age
Paperback

* Individual store prices may vary.
Other Editions of This Title:
Digital Audiobook (10/26/2015)
Hardcover (10/27/2015)
Compact Disc (10/27/2015)
MP3 CD (10/27/2015)
Compact Disc (10/27/2015)
Description
A renowned Buddhist teacher's magnum opus, based on his fresh reading of the tradition's earliest texts

Some twenty-five centuries after the Buddha started teaching, his message continues to inspire people across the globe, including those living in predominantly secular societies. What does it mean to adapt religious practices to secular contexts?
 
Stephen Batchelor, an internationally known author and teacher, is committed to a secularized version of the Buddha's teachings. The time has come, he feels, to articulate a coherent ethical, contemplative, and philosophical vision of Buddhism for our age. After Buddhism, the culmination of four decades of study and practice in the Tibetan, Zen, and Theravada traditions, is his attempt to set the record straight about who the Buddha was and what he was trying to teach. Combining critical readings of the earliest canonical texts with narrative accounts of five members of the Buddha's inner circle, Batchelor depicts the Buddha as a pragmatic ethicist rather than a dogmatic metaphysician. He envisions Buddhism as a constantly evolving culture of awakening whose long survival is due to its capacity to reinvent itself and interact creatively with each society it encounters.
 
This original and provocative book presents a new framework for understanding the remarkable spread of Buddhism in today's globalized world. It also reminds us of what was so startling about the Buddha's vision of human flourishing.
 
Praise For After Buddhism: Rethinking the Dharma for a Secular Age…
"In many ways, the most intellectually stimulating book on Buddhism in the past few years."—Adam Gopnik, The New Yorker

"A serious, secular reexamination of Buddhist ethics that acknowledges religiosity. . . . Highly intelligent, rigorous, and absorbing."—Publishers Weekly (starred review)

"There is much of value in Batchelor's book for practitioners and scholars alike."—Thomas Calobrisi, Reading Religion

"Brilliant, illuminating, and thought provoking, After Buddhism deserves the ultimate compliment for a work of this kind: it is useful. In probing the ancient scriptures in search of a Buddha we can relate to, Batchelor makes his dharma come thrillingly alive. A masterful achievement."—Mark Epstein, MD, author of Thoughts without a Thinker

"In this remarkable book, Stephen Batchelor transcends Buddhist dogma to surface a vision of the dharma that goes right to the heart of our contemporary global culture. Through diligent scholarship and years of practice, the author sheds new and revelatory light on the dharma. This is a must-read for all students of Buddhism."—Joan Halifax, PhD, Abbot, Upaya Zen Center

"With exemplary lucidity, Stephen Batchelor demonstrates the relevance of an ancient thought and practice in our own era. There is much in it that illuminates and clarifies—for those acquainted with Buddhism as well as those coming to it for the first time."—Pankaj Mishra

"Drawing on insights gleaned during decades of intensive practice, study, and writing, Batchelor's essays demonstrate conclusively how the ancient texts of Buddhism speak directly to the needs of contemporary people living active, engaged lives in the world."—Robert E. Buswell, Jr., University of California, Los Angeles

"An audacious disquisition on Buddhism, universal dharma, reality, and suffering for the 21st century. Batchelor posits that for the deep wisdom of Buddhism to serve humanity fully in our time, it may have to transcend itself."—Jon Kabat-Zinn, author of Full Catastrophe Living and Coming to Our Senses


Yale University Press, 9780300224344, 400pp.
Publication Date: February 21, 2017
About the Author
An internationally known author, teacher, and scholar of Buddhism, Stephen Batchelor leads secular Buddhist retreats worldwide, is a founding member of the Bodhi College, and a contributing editor of Tricycle: The Buddhist Review. He lives in southwest France.