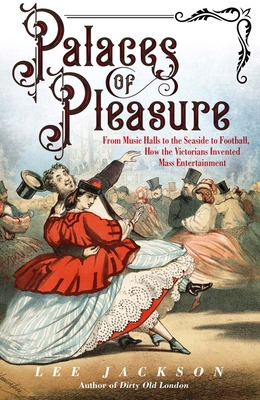 Palaces of Pleasure
From Music Halls to the Seaside to Football, How the Victorians Invented Mass Entertainment
Hardcover

* Individual store prices may vary.
Other Editions of This Title:
Digital Audiobook (6/24/2019)
Paperback (6/29/2021)
MP3 CD (6/25/2019)
Compact Disc (6/25/2019)
MP3 CD (6/25/2019)
Compact Disc (6/25/2019)
Description
An energetic and exhilarating account of the Victorian entertainment industry, its extraordinary success and enduring impact

The Victorians invented mass entertainment. As the nineteenth century's growing industrialized class acquired the funds and the free time to pursue leisure activities, their every whim was satisfied by entrepreneurs building new venues for popular amusement. Contrary to their reputation as dour, buttoned-up prudes, the Victorians reveled in these newly created 'palaces of pleasure'.
 
In this vivid, captivating book, Lee Jackson charts the rise of well-known institutions such as gin palaces, music halls, seaside resorts and football clubs, as well as the more peculiar attractions of the pleasure garden and international exposition, ranging from parachuting monkeys and human zoos to theme park thrill rides. He explores how vibrant mass entertainment came to dominate leisure time and how the attempts of religious groups and secular improvers to curb 'immorality' in the pub, variety theater and dance hall faltered in the face of commercial success.
 
The Victorians' unbounded love of leisure created a nationally significant and influential economic force: the modern entertainment industry.
Praise For Palaces of Pleasure: From Music Halls to the Seaside to Football, How the Victorians Invented Mass Entertainment…
"The author is a serious academic, his researches oceanic and his arguments exhaustive, his subject as much economic as social history [. . .] Readers of this scholarly but intoxicating book will share the author's glee."—John Walsh, The Sunday Times

"Lively and superbly researched history" - Paula Byrne, The Times

"As Lee Jackson demonstrates in his beguiling study of the 19th-century entertainment industry, pleasure is, at bottom, a deeply serious business, and the sharply opposed forces at work in Victorian society were just as apparent on the sea-front of England's south coast as in a House of Commons committee room the great strength of his book lies in its attention to detail."—D. J. Taylor, Wall Street Journal

"This fascinating history shows how . . . new venues flourished, along with music halls and seaside resorts, thanks to a growing middle class, favorable legislation, and shifting morals."—New Yorker

"The hope that Jackson himself expresses in his conclusion, that even the best-read Victorianists will be able to take away some new knowledge from his book, is bound to be realised. Throughout, he has raided the newspaper archives and other contemporary sources to great effect, with an eye for the curious and revealing detail."—Jacqueline Banerjee, The Victorian Web

"The industrialisation of the modern world is, all too often, described entirely in terms of coal, iron and desperate factory lives. In Palaces of Pleasure, by contrast, Lee Jackson has produced a detailed look at the industrialisation of pleasure: how the Victorians turned enjoyment into Big Business."—Judith Flanders, author of The Victorian City

"A treasure-chest of a book. Queen Victoria may not have been amused – but her subjects certainly knew where and how to party."—Liza Picard, author of Victorian London

"It is a pleasure to stagger (in print, of course) from pub to gin-shop to music hall with Lee Jackson as your companion. This is outstanding scholarship that changes our notions of 19th-century entertainment. It is original, thorough, accessible and fully explains the commercial underpinnings of change in this sector across the century. "—Sarah Wise, author of The Blackest Streets

"Inspired and fascinating. Jackson leads the reader on an incredible journey and breaks new ground in our understanding of the pioneering entrepreneurs who created mass entertainment for the Victorians."—Alex Werner, Lead Curator, Museum of London


Yale University Press, 9780300224634, 320pp.
Publication Date: June 25, 2019
About the Author
Lee Jackson is a well-known Victorianist and creator of the preeminent website on Victorian London (victorianlondon.org). He is the author of Dirty Old London: The Victorian Fight Against Filth and Walking Dickens' London.
or
Not Currently Available for Direct Purchase