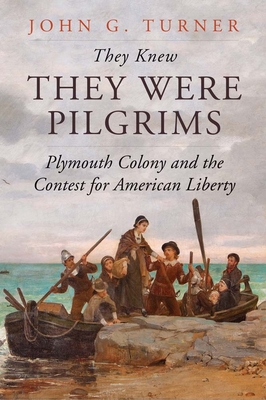 They Knew They Were Pilgrims (Hardcover)
Plymouth Colony and the Contest for American Liberty
Yale University Press, 9780300225501, 464pp.
Publication Date: April 7, 2020
Other Editions of This Title:
MP3 CD (4/7/2020)
Compact Disc (4/7/2020)
* Individual store prices may vary.
Description
An ambitious new history of the Pilgrims and Plymouth Colony, published for the 400th anniversary of the Mayflower's landing

In 1620, separatists from the Church of England set sail across the Atlantic aboard the Mayflower. Understanding themselves as spiritual pilgrims, they left to preserve their liberty to worship God in accordance with their understanding of the Bible.

There exists, however, an alternative, more dispiriting version of their story. In it, the Pilgrims are religious zealots who persecuted dissenters and decimated the Native peoples through warfare and by stealing their land. The Pilgrims' definition of liberty was, in practice, very narrow.
 
Drawing on original research using underutilized sources, John G. Turner moves beyond these familiar narratives in his sweeping and authoritative new history of Plymouth Colony. Instead of depicting the Pilgrims as otherworldly saints or extraordinary sinners, he tells how a variety of English settlers and Native peoples engaged in a contest for the meaning of American liberty.
About the Author
John G. Turner is professor of religious studies at George Mason University and the award-winning author of Brigham Young: Pioneer Prophet. He lives in Burke, VA.
Praise For They Knew They Were Pilgrims: Plymouth Colony and the Contest for American Liberty…
"This highly important book will become the new standard work on the Plymouth Colony."—Thomas Kidd, author of Who Is an Evangelical?
"They Knew They were Pilgrims is a deeply-researched must-read for anyone interested in the Pilgrims and in the history of 17th-century Plymouth Colony."—Michael P. Winship, author of Hot Protestants
 
"This is 'Pilgrim' history from start to finish—all the way from the stirrings of 'separatism' in late sixteenth-century England to the absorbing of Plymouth Colony into Massachusetts in 1691. Told with unusual lucidity, Turner's narrative avoids the myths of the Pilgrims as founders of our democracy or 'Congregationalism.'"—David D. Hall, author of The Puritans: A Transatlantic History
 
"Turner takes readers deep into the complex world the Pilgrims inhabited, giving an old familiar story remarkable new life and power. The story he tells is at once entertaining, erudite, and wonderfully human."—Margaret Bendroth, author of The Last Puritans
 
"Compulsively readable, lively, and engaging. Turner summarizes the best of recent scholarship and also digs into the primary records—published and archival—for fresh perspectives on Plymouth Colony. History buffs and scholars alike will enjoy this addition to the literature. "—Jenny Hale Pulsipher, author of Swindler Sachem