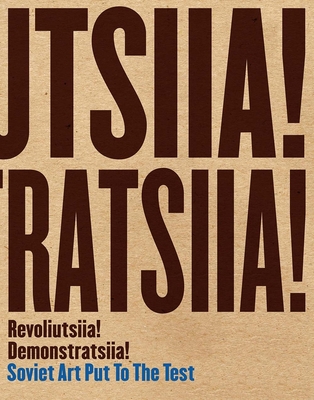 Revoliutsiia! Demonstratsiia!
Soviet Art Put to the Test
Hardcover

* Individual store prices may vary.
Description
Groundbreaking new insight into a rich spectrum of early Soviet art and its spaces of display

Published on the centenary of the Russian Revolution, this landmark book gathers information from the forefront of current research in early Soviet art, providing a new understanding of where art was presented, who saw it, and how the images incorporated and conveyed Soviet values. More than 350 works are grouped into areas of critical importance for the production, reception, and circulation of early Soviet art: battlegrounds, schools, the press, theaters, homes and storefronts, factories, festivals, and exhibitions. Paintings by El Lissitzky and Liubov Popova are joined by sculptures, costumes and textiles, decorative arts, architectural models, books, magazines, films, and more. Also included are rare and important artifacts, among them a selection of illustrated children's notes by Joseph Stalin's daughter, Svetlana Allilueva, as well as reproductions of key exhibition spaces such as the legendary Obmokhu (Constructivist) exhibition in 1921; Aleksandr Rodchenko's 'Workers' Club in 1925; and a Radio-Orator kiosk for live, projected, and printed propaganda designed by Gustav Klutsis in 1922. Bountifully illustrated, this book offers an unprecedented, cross-disciplinary analysis of two momentous decades of Soviet visual culture.
 
Praise For Revoliutsiia! Demonstratsiia!: Soviet Art Put to the Test…
"Up now at the Art Institute of Chicago is the largest of many American exhibitions timed to the centenary of the Russian Revolution, and its catalog pays particular attention to the photographers, graphic designers and architects who aimed to model a new society they really did think was coming. My favorite discovery was a suite of colorful bar graphs charting women's labor productivity, souped up with photocollages of climbing high-rises and satisfied workers: a rather more inventive kind of data journalism."—Jason Farago, New York Times

"Monumental . . . The images, aesthetics, and typography connect with us today because of their astonishing freshness even a century later."—Alan Bisbort, Sunday Republican (Waterbury, Connecticut)

"[This] book breaks ground in applying an archeological framework to the study of art history. . . . These essays and images question assumptions about Soviet art . . . and invite readers to consider the work beyond the confines of the historical narrative."—Publishers Weekly


Art Institute of Chicago, 9780300225716, 324pp.
Publication Date: July 18, 2017
About the Author
Matthew S. Witkovsky is Richard and Ellen Sandor Chair and Curator of the Department of Photography at the Art Institute of Chicago. Devin Fore is associate professor of German at Princeton University. Yve-Alain Bois is professor of art history at the Institute for Advanced Study, Princeton, New Jersey. Masha Chlenova is an art historian, a curator, and a lecturer at the New School, New York. Maria Gough is Joseph Pulitzer, Jr. Professor of Modern Art at Harvard University. Christina Kiaer is associate professor of art history at Northwestern University. Kristin Romberg is assistant professor of art history at the University of Illinois, Urbana-Champaign. Kathleen Tahk is a Ph.D. candidate at Northwestern University and the Dangler Graduate Curatorial Intern and Mellon Fellow in the Department of Photography at the Art Institute of Chicago. Barbara Wurm teaches at the Humboldt University of Berlin.