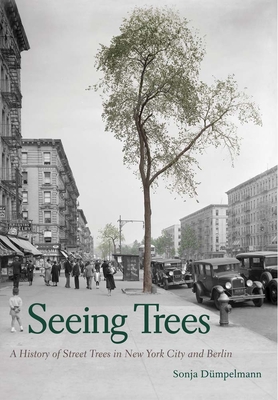 Seeing Trees
A History of Street Trees in New York City and Berlin
Hardcover

* Individual store prices may vary.
Description
"A deep . . . dive into urban society's need for—and relationship with—trees that sought to return the natural world to the concrete jungle."—Adrian Higgins, Washington Post

Winner of the Foundation for Landscape Studies' 2019 John Brinckerhoff Jackson Prize

Today, cities around the globe are planting street trees to mitigate the effects of climate change. However, as landscape historian Sonja Dümpelmann explains, the planting of street trees in cities to serve specific functions is not a new phenomenon. In her eye-opening work, Dümpelmann shows how New York City and Berlin began systematically planting trees to improve the urban climate during the nineteenth century, presenting the history of the practice within its larger social, cultural, and political contexts.
 
A unique integration of empirical research and theory, Dümpelmann's richly illustrated work uncovers this important untold story. Street trees—variously regarded as sanitizers, nuisances, upholders of virtue, economic engines, and more—reflect the changing relationship between humans and nonhuman nature in urban environments. Offering valuable insights and frameworks, this authoritative volume will be an important resource for years to come.
Praise For Seeing Trees: A History of Street Trees in New York City and Berlin…
"Dümpelmann tracks the history of the modern street tree . . . A deep, scholarly dive into urban society's need for—and relationship with—trees that sought to return the natural world to the concrete jungle."—Adrian Higgins, Washington Post
"Fascinating and well-illustrated . . . a compelling narrative . . . Dümpelmann brings an accessible writing style and admirable curiosity . . .  authoritative and original . . . she extends the boundaries of landscape history . . . Seeing Trees will serve as an important reference point for urban and landscape history in the future."—Mark Favermann, Arts Fuse
"Fascinating."—M. J. Stone, Choice
"This book provides a rich narrative of street trees in society, complementing other books written about the history of urban greening. . . . The book is a significant contribution to the multifaceted story of urban ecological infrastructure. It would be suitable as a textbook in urban studies and landscape architecture, and a great read for those interested in arboriculture, urban ecology, and community planning."—Jane Futrell Winslow, Journal of Urban Affairs
Seeing Trees has won the 2019 John Brinckerhoff Jackson prize, sponsored by the Foundation for Landscape Studies
 
"In this imaginative and deeply researched work, Sonja Dümpelmann truly helps us to 'see trees' in the careful chronologies she develops and the political messages that these trees represented within their times and places."—Keith Morgan, Boston University
"In Seeing Trees the distinguished scholar Sonja Dümpelmann employs her linguistic ability, knowledge, and imaginative use of the archival resources in both Berlin and New York to extend the boundaries of landscape history."—Kenneth Helphand, University of Oregon, author of Defiant Gardens: Making Gardens in Wartime
"Sonja Dümpelmann distills a rich and textured history of street trees—the people involved, technical approaches employed, and the way street trees served as both a polemic and as a point of unification for people."—Susan Herrington, author of Landscape Theory in Design
"This meticulously researched and beautifully illustrated book chronicles the multifaceted identities of trees—as food, fuel, shelter, and defense—and offers us new ways of reading social history into the natural world."—Jennifer S. Light, Massachusetts Institute of Technology
"A signal contribution to the history of landscape design and city planning. Writing with narrative verve, Sonja Dümpelmann turns rigorous scholarship into a fascinating story of time and place for both the academic and general reader."—Elizabeth Barlow Rogers, President, Foundation for Landscape Studies
Yale University Press, 9780300225785, 336pp.
Publication Date: January 8, 2019
About the Author
Sonja Dümpelmann is associate professor of landscape architecture at Harvard's Graduate School of Design and author or editor/co-editor of several books, including the 2015 John Brinkerhoff Jackson Book Prize–winner Flights of Imagination: Aviation, Landscape, Design.
or
Not Currently Available for Direct Purchase