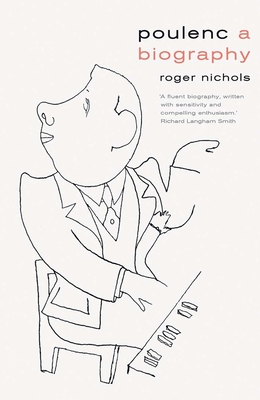 Poulenc
A Biography
Hardcover

* Individual store prices may vary.
Description
An authoritative account of the life and work of Francis Poulenc, one of the most prolific and striking figures in twentieth-century classical music

"An assured overview of Poulenc's life and work."—Alex Ross, New Yorker

"Essential reading for anyone interested in the French musical culture of Poulenc's time. This is the biography the composer deserves."—Christopher Dingle, BBC Music Magazine, 

Named one of the Best Books on Classical Music in 2020 by BBC Music Magazine

Francis Poulenc is a key figure in twentieth-century classical music, as well as an unorthodox and striking individual. Roger Nichols draws upon Poulenc's music and other primary sources to write an authoritative life of this great artist.
 
Although associated with five other French composers in what came to be called "Les Six", Poulenc was very much sui generis in personality and in his music, where he excelled over a wide repertoire—opera, songs, ballet scores, chamber works, piano pieces, sacred and secular choral works, orchestral works and concertos. This book fully covers this wide range, while also describing the vicissitudes of Poulenc's life and the many important relationships he had with major figures such as Satie, Ravel, Stravinsky, Diaghilev, Cocteau and others.
Praise For Poulenc: A Biography…
"Absorbing . . . Nichols gives an assured overview of Poulenc's life and work, applying a light touch that is appropriate to the subject's man-about-town façade."—Alex Ross, New Yorker

"Roger Nichols examines Poulenc's life and charming music . . . An accessible biography for the common reader."—John Check, Wall Street Journal

"A rich scholarly biography of the prolific French composer"—Kirkus Reviews

"[A] superb biography . . . [Nichols] treats Poulenc's life sympathetically while detailing the genesis of his works. A highly cultivated listener with a keen musical memory, Nichols is able to enumerate instances of the composer's self-quotations and his allusions to pieces by other composers. Having previously translated Poulenc's writing, he brings to his work a thorough familiarity. When he passes judgment, he does so with authority and discretion."—John Check, New Criterion

"Nichols honors Poulenc with a spare, yet never slapdash, prose style. Amusing, culturally literate, perceptive, and humane, Nichols admits the composer's character faults and artistic misfires while conveying on each page his essential affection for the music."—R. J. Stove, American Conservative

"An excellent biography [that] will send readers to listen again to Poulenc's music."—S. C. Pelkey, Choice

"Nichols is the perfect biographer for Poulenc. He has the same light touch, the same urbane charm and wit, and he knows everything there is to know about French music, its sources, its context and its psychology."—Stephen Walsh, author of Debussy

"Packed with entertaining detail and engagingly written, Nichols' biography is essential reading for anyone interested in French music of the 20th century."—Caroline Potter, author of Erik Satie

"A fluent biography, written with sensitivity and compelling enthusiasm for the composer's music. Readers are guided to the poetry behind the music and the theology behind his Carmelites, all in the context of the highs and lows of the life of this fascinating man."—Professor Richard Langham Smith, Royal College of Music

"It is with great expectation that we should welcome the release of this book about the quintessential French musician Francis Poulenc; all the more so for being written by Nichols who is such an authority on the subject."—Yan Pascal Tortelier, conductor and violinist


Yale University Press, 9780300226508, 352pp.
Publication Date: June 9, 2020
About the Author
Roger Nichols is a leading British authority on modern French music and a Chevalier de la Légion d'honneur. His publications include Ravel, The Harlequin Years: Music in Paris, 1917–1929, and volumes on Debussy and Messiaen.