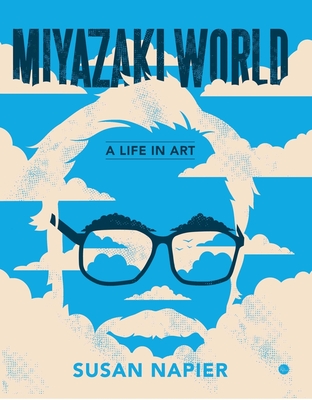 Miyazakiworld
A Life in Art
Hardcover

* Individual store prices may vary.
Other Editions of This Title:
Paperback (11/19/2019)
Compact Disc (4/23/2019)
MP3 CD (4/23/2019)
Description
The story of filmmaker Hayao Miyazaki's life and work, including his significant impact on Japan and the world—"an essential work in anime scholarship." (Angelica Frey, Hyperallergic)

A thirtieth‑century toxic jungle, a bathhouse for tired gods, a red‑haired fish girl, and a furry woodland spirit—what do these have in common? They all spring from the mind of Hayao Miyazaki, one of the greatest living animators, known worldwide for films such as My Neighbor Totoro, Princess Mononoke, Spirited Away, Howl's Moving Castle, and The Wind Rises.
 
Japanese culture and animation scholar Susan Napier explores the life and art of this extraordinary Japanese filmmaker to provide a definitive account of his oeuvre. Napier insightfully illuminates the multiple themes crisscrossing his work, from empowered women to environmental nightmares to utopian dreams, creating an unforgettable portrait of a man whose art challenged Hollywood dominance and ushered in a new chapter of global popular culture.
Praise For Miyazakiworld: A Life in Art…
"Packed with interesting details about the filmmaker's life, interests, and inspirations."—Mark Jenkins, Washington Post

"The celebrated Japanese animation director Hayao Miyazaki came out of retirement last year, making this compact study of his life and work especially timely."—John McMurtrie, San Francisco Chronicle (Holiday Gift Guide selection)

"Susan Napier eloquently defines Miyazaki as an auteur who creates immersive animated realms that vary from film to film but are joined by a consistent (albeit evolving) worldview and tropes . . . An essential work in anime scholarship."—Angelica Frey, Hyperallergic
 

"A laudably well-informed look at the life and works of Japanese animation luminary Hayao Miyazaki . . . enlightening . . . the labor of both a consummate scholar and an avid fan."—Publishers Weekly

"Engaging and insightful . . . enlightening . . . extremely accessible."—Dylan Hysen, Overly Animated

"A great biography of legendary anime director Hayao Miyazaki that not only discusses his life, but also delves into each of his films."—The Verge (Holiday Gift Guide)

"An excellent overview of Miyazaki's work, its meaning and impact . . . [that] combines biography with cinematic analysis in a manner that is as accessible to the general reader as it is satisfying for the more engaged scholar."—Hans Rollmann, Popmatters

"If you've seen any of [Miyazaki's] movies and felt the strange attraction they exert, this is the book for you."—Titus Techera, University Bookman 

"Napier does not disappoint. . . . [She] clearly adores her subject, but is ready to cite some entertainingly dissenting views."—Jonathan Clements, Science Fiction Studies

"A refreshing, intimate, highly original look at Miyazaki Hayao's oeuvre, including early anime features, mainstream hits and the many-volumed manga, Nausicaa. Miyazaki is placed firmly on the world stage, including both local roots and global impact."—Rachael Hutchinson, University of Delaware
 

"An insightful, fascinating, and revealing study of Miyazaki and his worlds by one of the world's foremost experts in Japanese animated films, Miyazakiworld is a true achievement."—Karen Thornber, Harvard University

"Providing expert guidance to the radically inventive mysteries of Hayao Miyazaki's films, Susan Napier shows exactly how Japan's master of animation taps into the wonders of the natural world yet also faces down our demons, exploring trauma, crisis, and the willful destruction of our made world.  Like his literary and cinematic forebears, Miyazaki creates a form of wonderlore that reveals the power of art to animate, not just his characters and landscapes, but also his audiences."—Maria Tatar, author of The Annotated Brothers Grimm

"In Miyazakiworld, Susan Napier demonstrates her gift for narrative and passion for enchantment in exploring the spacetime between the fantasy worlds of Hayao Miyazaki's creation and the grittier worlds that created him."—Jennifer Robertson, author of Robo Sapiens Japanicus

"This wonderful, lively book introduces the whole life and career of Miyazaki via commentary on the narratives and themes within his films, and some manga, and his personal life."—Sharon Kinsella, The University of Manchester


Yale University Press, 9780300226850, 344pp.
Publication Date: September 4, 2018
About the Author
Susan Napier is the Goldthwaite Professor of Rhetoric and Japanese Studies at Tufts University. She is the author of Anime from Akira to "Howl's Moving Castle": Experiencing Contemporary Japanese Animation, among other books.
or
Not Currently Available for Direct Purchase