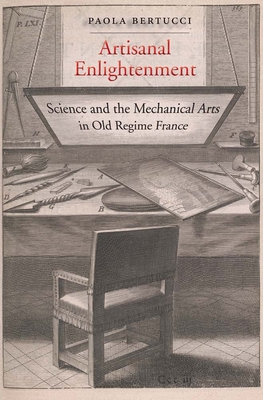 Artisanal Enlightenment (Hardcover)
Science and the Mechanical Arts in Old Regime France
Yale University Press, 9780300227413, 312pp.
Publication Date: November 28, 2017
* Individual store prices may vary.
Description
A groundbreaking work that places the mechanical arts and the world of making at the heart of the Enlightenment

What would the Enlightenment look like from the perspective of artistes, the learned artisans with esprit, who presented themselves in contrast to philosophers, savants, and routine-bound craftsmen? Making a radical change of historical protagonists, Paola Bertucci places the mechanical arts and the world of making at the heart of the Enlightenment. At a time of great colonial, commercial, and imperial concerns, artistes planned encyclopedic projects and sought an official role in the administration of the French state. The Société des Arts, which they envisioned as a state institution that would foster France's colonial and economic expansion, was the most ambitious expression of their collective aspirations. 
 
Artisanal Enlightenment provides the first in-depth study of the Société, and demonstrates its legacy in scientific programs, academies, and the making of Diderot and D'Alembert's Encyclopédie. Through insightful analysis of textual, visual, and material sources, Bertucci provides a groundbreaking perspective on the politics of writing on the mechanical arts and the development of key Enlightenment concepts such as improvement, utility, and progress.
About the Author
Paola Bertucci is associate professor of history at Yale University. She has published extensively on the public culture of science in eighteenth-century Europe, and is the author of prize-winning essays on secrecy, selective visibility, and industrial travel in the Enlightenment.
Praise For Artisanal Enlightenment: Science and the Mechanical Arts in Old Regime France…
"A tour de force . . . [an] excellent study."—Choice
Selected as the winner of the 2018-2019 Louis Gottschalk Prize, sponsored by American Society for Eighteenth-Century Studies
A finalist for the Kenshur Prize,  awarded for the best book on any eighteenth century topic relevant to a variety of disciplines, given by the Center for Eighteenth-Century Studies at Indiana University- Bloomington.
Artisanal Enlightenment was shortlisted for the Pfizer Award given by the History of Science Society for an outstanding book in a three-year period in history of science 
Artisanal Enlightenment was the second-prize winner of the 2018 Pickstone Prize from  the British Society for the History of Science (BSHS), awarded for the best scholarly book in the history of science and medicine in English. 
Winner of the Outstanding Academic Title for 2018 award sponsored by Choice
"In this absorbing study of learned artisans in earlier eighteenth-century Paris, Paola Bertucci explores fundamental questions about technical innovation and the roles of theory and practice at a key moment in the emergence of the modern industrial state and the ideology of enlightenment."—Simon Schaffer, University of Cambridge, co-author of Leviathan and the Air-Pump: Hobbes, Boyle, and the Experimental Life
"A sophisticated investigation of the meaning and role of the mechanical arts in the French Enlightenment. This important and beautifully written study changes the focus and the direction of eighteenth-century scholarship in intellectual history and the history of science."—Pamela O. Long, author of Openness, Secrecy, Authorship: Technical Arts and the Culture of Knowledge from Antiquity to the Renaissance
 
"Based on deep and careful archival research, and written in remarkably clear prose, this fascinating book explores the relation of the sciences and the arts, or mind and hand, in eighteenth-century France."—Mary Terrall, author of Catching Nature in the Act: Réaumur and the Practice of Natural History in the Eighteenth Century
"Artisanal Enlightenment is a must-read for historians of science, technology, and the Enlightenment"—Dena Goodman, author of The Republic of Letters: A Cultural History of the French Enlightenment
"In exploring the evolution of artisanal and scientific milieus during the French Enlightenment, Paola Bertucci reveals a complex, layered world of knowledge production and skills in one of the capital cities of the European Enlightenment."—Stéphane Van Damme, European University Institute