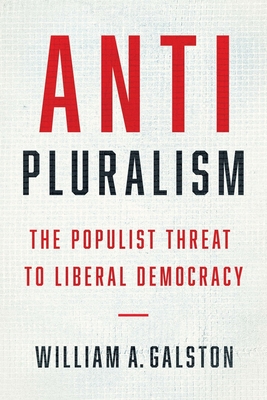 Anti-Pluralism
The Populist Threat to Liberal Democracy (Politics and Culture)
Hardcover

* Individual store prices may vary.
Other Editions of This Title:
Digital Audiobook (6/25/2018)
Description
The Great Recession, institutional dysfunction, a growing divide between urban and rural prospects, and failed efforts to effectively address immigration have paved the way for a populist backlash that disrupts the postwar bargain between political elites and citizens. Whether today's populism represents a corrective to unfair and obsolete policies or a threat to liberal democracy itself remains up for debate. Yet this much is clear: these challenges indict the triumphalism that accompanied liberal democratic consolidation after the collapse of the Soviet Union. To respond to today's crisis, good leaders must strive for inclusive economic growth while addressing fraught social and cultural issues, including demographic anxiety, with frank attention. Although reforms may stem the populist tide, liberal democratic life will always leave some citizens unsatisfied. This is a permanent source of vulnerability, but liberal democracy will endure so long as citizens believe it is worth fighting for.
Praise For Anti-Pluralism: The Populist Threat to Liberal Democracy (Politics and Culture)…
"[Galston's] is the right way for any liberal to think and write about a victorious right-wing populist insurgency: not with terror and dismay that democracy has met its match, but with patient, informed arguments about why it happened—and what to do about it."—Barton Swaim, The Wall Street Journal

"[Galston's] willingness to recommend difficult shifts in policy is brave."—Financial Times

"Galston provides a reminder that the [liberal democracy's] great virtue, compared with its authoritarian, theocratic, and socialist rivals, is its ability for self-reflection and correction. Galston is betting that the democratic spirit is still alive."—Foreign Affairs

"Clear and concise, this book is a useful account of the rise of populism and why populism is not the same thing as liberal democracy."—Choice

"Coming from the pen of one of the most respected of American political theorists, it offers a lucid and balanced analysis of the current crisis of our liberal democracies."—Law and Liberty

"This remarkable volume is at once a superb analysis of the crisis of liberal democracy and a model of fresh thinking about how to reform and reinvent our divided country."—Carl Gershman, President, the National Endowment for Democracy
 

"Bill Galston is one of the most acute observers of contemporary American politics.  Anti-Pluralism moves seamlessly from the theory of democracy to concrete proposals for how to deal with the current wave of populism that serves as an antidote to our current pessimism."—Francis Fukuyama, senior fellow at Stanford and author of Political Order and Political Decay
 


Yale University Press, 9780300228922, 176pp.
Publication Date: March 20, 2018
About the Author
William A. Galston is a former policy advisor to President Bill Clinton and currently holds the Ezra K. Zilkha Chair in the Governance Studies Program at the Brookings Institution, where he serves as a senior fellow.
or
Not Currently Available for Direct Purchase