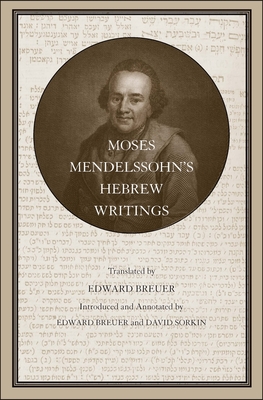 Moses Mendelssohn's Hebrew Writings (Yale Judaica Series #33)
Hardcover

* Individual store prices may vary.
Description
German Jewish philosopher Moses Mendelssohn (1729–1786) was one of the most influential thinkers of the Enlightenment. Until now, attention was focused on Mendelssohn's German works—such as his groundbreaking Jerusalem—which have been duly translated into English. Edward Breuer and David Sorkin assert that his Hebrew works are essential for understanding both his biography and his oeuvre. This volume offers expertly translated and generously annotated selections from the entire corpus of Mendelssohn's published Hebrew writings.

Mendelssohn wrote in Hebrew throughout his life, but these works—mainly grounded in biblical and other Hebrew classical works—have been hitherto inaccessible to most scholars. In this volume, Breuer and Sorkin make an important contribution to modern Jewish and religious thought, refuting the notion that Mendelssohn led a bifurcated intellectual and spiritual existence and demonstrating Mendelssohn's ability to transform traditional religious genres into vehicles for philosophical argumentation.
Praise For Moses Mendelssohn's Hebrew Writings (Yale Judaica Series #33)…
"The editors' scholarship is vast, and they demonstrate that Mendelssohn's Hebrew corpus augmented his classic Jerusalem by underscoring the plain meaning of language and text in the use of reason to assert Judaism as a revealed code of legal, ritual, and moral law."—Choice
"This groundbreaking volume productively defamiliarizes one of modern Judaism's best known thinkers. . . . The translations are models of precision and elegance, and the introductions and annotations provide detailed yet accessible explanations of content that may be obscure for many readers."—Elias Sacks, Reading Religion
"This book is a model of collaborative scholarship by two seasoned Mendelssohn scholars, a bold corrective to the still prevailing one-sided approach to the study of his work, and an invaluable resource to understanding the full complexity of his legacy."— Ismar Schorsch, The Jewish Theological Seminary
 
"The translations themselves are not only much more plentiful, but, in my opinion, superior to any existing ones, whether in German or in English. This is an excellent work of scholarship."—Charles H. Manekin, University of Maryland
 
"This book is a major boon to all readers interested in the European Enlightenment, modern Jewish history, and especially modern Jewish thought. These writings have major implications not only for scholarly debates about the nature and intentions of Mendelssohn's philosophical and exegetical arguments but also for the deep and continually relevant question of whether religion and modernity can ultimately be reconciled."—Leora F. Batnitzky, Princeton University
 
"At last, English readers have access to essential works by one of the most important Jewish thinkers of modern times. Judiciously selected, carefully annotated, and brilliantly introduced, the texts in this volume are a great gift to the scholarly community."—Jay M. Harris, Harvard University
 
Yale University Press, 9780300229028, 560pp.
Publication Date: May 22, 2018
About the Author
Edward Breuer teaches in the Department of Jewish History and Contemporary Jewry at the Hebrew University of Jerusalem. David Sorkin is the Lucy G. Moses Professor of Modern Jewish History at Yale University. His most recent book is The Religious Enlightenment: Protestants, Jews, and Catholics from London to Vienna.
or
Not Currently Available for Direct Purchase