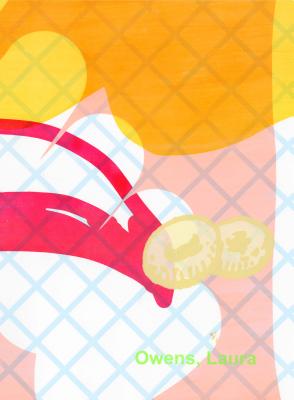 Owens, Laura (Paperback)
Whitney Museum of American Art, 9780300229295, 664pp.
Publication Date: November 28, 2017
Other Editions of This Title:
Paperback (6/5/2018)
* Individual store prices may vary.
Description
A richly illustrated, expansive mid-career survey of the stand-out American artist's pioneering and influential work, with each copy featuring a unique silk-screen cover printed in Owens's studio

Since the early 1990s, Laura Owens (b. 1970) has challenged traditional assumptions about figuration and abstraction in her pioneering approach to painting. Created in close collaboration with the artist on the occasion of her mid-career survey at the Whitney Museum of American Art, this inventive and comprehensive book features an incisive introduction by Scott Rothkopf, critical essays, literary texts, and short commentaries on a variety of subjects related to Owens's broad interests, which range from folk art and needlework to comics and wallpaper.

Reflections by more than twenty of Owens's fellow artists, collaborators, assistants, dealers, family members, and friends offer an array of perspectives on her work at different periods in her life, beginning with her high school years in Ohio and ending with her current exhibition. A rich trove of more than a thousand images, drawn from the artist's personal archive and largely unpublished before now, includes personal correspondence, journals, academic transcripts, handwritten notes, source material, exhibition announcements, clippings, and installation photographs. 

Strikingly, each copy also features a unique silk-screen cover printed in Owens's studio, giving readers the opportunity to own an original work of art. Together, all of these elements provide a rare and intimate look at how an artist might make her way in the world as well as how art gets made, movements take hold, and relationships evolve over time. 
 
About the Author
Scott Rothkopf is deputy director for programs and Nancy and Steve Crown Family Chief Curator at the Whitney Museum of American Art, New York.
 
Praise For Owens, Laura…
"The catalog brims with archival material — notes, sketches, news releases and price lists — and photographs superimposed, with drop shadows galore. Interspersed are oral histories and comments from family, friends, collaborators, former teachers and students. Although there are several essays, the totality is a kind of biography in the raw. (The only downside is that it's not so useful as a record of the actual show.) It documents Ms. Owens's thinking and working processes, her artistic community and the nuts and bolts of her career, starting with typed letters and proceeding to email and text exchanges with dealers and curators, even those for this show. Designed by Tiffany Malakooti, the catalog takes brilliant advantage of Ms. Owens's apparent reluctance to throw things out."—Roberta Smith, New York Times
"For the retrospective, Owens and the Whitney curator Scott Rothkopf have created an astonishing catalogue, both epic and intimate: six hundred and sixty-three pages of reproduced works, critical essays, literary texts, photographs, clippings, memoirs by friends, journals, correspondence, exhibition plans, and ephemera."—Peter Schjeldahl, New Yorker
or
Not Currently Available for Direct Purchase