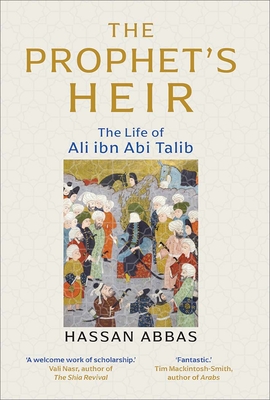 The Prophet's Heir
The Life of Ali Ibn Abi Talib
Hardcover

* Individual store prices may vary.
Description
The life and legacy of one of Mohammad's closest confidants and Islam's patron saint: Ali ibn Abi Talib

Ali ibn Abi Talib is arguably the single most important spiritual and intellectual authority in Islam after prophet Mohammad. Through his teachings and leadership as fourth caliph, Ali nourished Islam. But Muslims are divided on whether he was supposed to be Mohammad's political successor—and he continues to be a polarizing figure in Islamic history.
 
Hassan Abbas provides a nuanced, compelling portrait of this towering yet divisive figure and the origins of sectarian division within Islam. Abbas reveals how, after Mohammad, Ali assumed the spiritual mantle of Islam to spearhead the movement that the prophet had led. While Ali's teachings about wisdom, justice, and selflessness continue to be cherished by both Shia and Sunni Muslims, his pluralist ideas have been buried under sectarian agendas and power politics. Today, Abbas argues, Ali's legacy and message stands against that of ISIS, Al-Qaeda, and Taliban.
Praise For The Prophet's Heir: The Life of Ali Ibn Abi Talib…
"Ali was a hugely gifted thinker and speaker, one of the earliest scribes and something of a poet. But it is hard to be objective about him. The evidence is often contradictory and he is shrouded by accretions, pious and otherwise. In The Prophet's Heir, Hassan Abbas - an enthusiast for his subject, and an objective enthusiast - pursues Ali on the ground. Fantastic."—Tim Mackintosh-Smith, author of Arabs

"An erudite and accessible biography of Ali, one that tells his life story, and discusses his teachings and values, and how his legacy continues to loom large over Muslim world."—Vali Nasr, author of The Shia Revival

"This erudite but readable book shows why the Prophet's cousin and son-in-law Ali is central to Islam today, and should be both an inspiration and a figure for reconciliation."—John McHugo, author of A Concise History of Sunnis & Shi'is


Yale University Press, 9780300229455, 256pp.
Publication Date: March 16, 2021
About the Author
Hassan Abbas is distinguished professor of international relations at Near East South Asia Strategic Studies Centre at the National Defense University in Washington, D.C. He is the author of The Taliban Revival and Pakistan's Drift into Extremism.