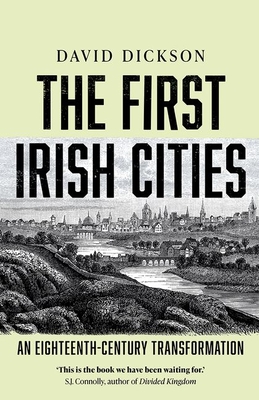 The First Irish Cities
An Eighteenth-Century Transformation
Hardcover

* Individual store prices may vary.
Other Editions of This Title:
Paperback (4/19/2022)
Description
The untold story of a group of Irish cities and their remarkable development before the age of industrialization

A backward corner of Europe in 1600, Ireland was transformed during the following centuries. This was most evident in the rise of its cities, notably Dublin and Cork. David Dickson explores ten urban centers and their patterns of physical, social, and cultural evolution, relating this to the legacies of a violent past, and he reflects on their subsequent partial eclipse. Beautifully illustrated, this account reveals how the country's cities were distinctive and—through the Irish diaspora—influential beyond Ireland's shores.
Praise For The First Irish Cities: An Eighteenth-Century Transformation…
"Dickson has written what is probably the most important work on Irish towns ever published…The First Irish Cities is scholarly, authoritative, elegantly written, beautifully illustrated, and a delight to read."—Leslie Clarkson, Familia
"A very valuable and intriguing resource that answered many questions and gave satisfying explanations."—Flicka Small, Estudios Irlandeses
'Highly original, well-researched and elegantly written … Transforms our understanding of many important questions.'—Eugenio Biagini, author of 
 British Democracy and Irish Nationalism 1876-1906
'This is the book we have been waiting for. Dickson provides the first comprehensive overview of the great age of Irish urban development, in all its complexity and variety.'—Sean Connolly, author of Divided Kingdom
'Exemplary. The study of Irish urban history has been until now patchy. Dickson's work significantly reduces this scholarly deficit.'—Jim Smyth, Emeritus Professor, University of Notre Dame
'Drawing on his magisterial knowledge of all facets of eighteenth-century Ireland, Dickson unpicks the country's anomalous urban histories -  stemming from the extraordinary mid-century growth spurts that created cities comparable to their great European and British counterparts.'—Finola O'Kane, Professor, University College Dublin
Yale University Press, 9780300229462, 352pp.
Publication Date: June 8, 2021
About the Author
David Dickson is professor emeritus of Modern History in Trinity College Dublin. His previous books include Dublin: The Making of a Capital City, Old World Colony: Cork and South Munster 1630–1830, and New Foundations: Ireland 1660–1800, Revised Edition.