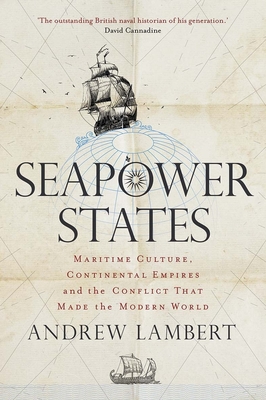 Seapower States
Maritime Culture, Continental Empires and the Conflict That Made the Modern World
Hardcover

* Individual store prices may vary.
Other Editions of This Title:
MP3 CD (11/27/2018)
Compact Disc (11/27/2018)
Paperback (3/17/2020)
Description
One of the most eminent historians of our age investigates the extraordinary success of five small maritime states

Andrew Lambert, author of The Challenge: Britain Against America in the Naval War of 1812—winner of the prestigious Anderson Medal—turns his attention to Athens, Carthage, Venice, the Dutch Republic, and Britain, examining how their identities as "seapowers" informed their actions and enabled them to achieve success disproportionate to their size.
 
Lambert demonstrates how creating maritime identities made these states more dynamic, open, and inclusive than their lumbering continental rivals. Only when they forgot this aspect of their identity did these nations begin to decline. Recognizing that the United States and China are modern naval powers—rather than seapowers—is essential to understanding current affairs, as well as the long-term trends in world history. This volume is a highly original "big think" analysis of five states whose success—and eventual failure—is a subject of enduring interest, by a scholar at the top of his game.
Praise For Seapower States: Maritime Culture, Continental Empires and the Conflict That Made the Modern World…
"Seapower States is an intriguing series of stories of communities thinking seriously about how to stand their own ground when outpowered, how to do so in ways that are consistent with their values, and sometimes how to negotiate the descent from being a great power when the cards just aren't in their favour any more.These are timely questions."—Sarah Kinkel, Times Higher Education Supplement
"I admire the author's ambition and verve, the fluency of his writing, the audacity of some of his insights, the unquenchability of his commitment and the brilliance with which he uses art as evidence."—Felipe Fernandez Armesto, Literary Review
"Seapower States presents, along with a fascinating geopolitical chronicle, 'the history of an idea, and its transmission across time' . . . [with] many provocative insights . . . A superb survey of the perennial opportunities and risks in what Herman Melville called 'the watery part of the world.'"—William Anthony Hay, Wall Street Journal
"Compelling . . . both scholarly and readable"—Gary Anderson, Washington Times 
"Lambert is, without a doubt, the most insightful naval historian writing today. His range is immense and his sensitivity to his subject profound. This is, however, a very serious book . . . It will become a standard text at universities for decades to come . . . I found this book admirable."—Gerard DeGroot, The Times
"This a provocative book, quite deliberately so. Lambert's stated intention is 'generate debate' rather than to settle it. (xii) Readers may disagree with some of his arguments, but they almost certainly will be intellectually stimulated as well."—John Beeler, The Northern Mariner
Winner of the sixth annual Gilder Lehrman Prize for Military History, sponsored by The Gilder Lehrman Institute of American History
"Seapower States offers a wide-ranging analysis of how and why different seapowers have emerged and declined. In crisp and assertive prose, Lambert points out parallels and congruences between different states, arguing that they chose to construct 'seapower' identities. An impressive and important contribution."—James Davey, author of In Nelson's Wake 
 "An excellent much needed long-view historical narrative of the ideas of seapower and sea power. It shows how the classical heritage of the histories of the Peloponnesian and  Punic wars have informed the rhetoric, grammar, metaphors and iconography of international politics for 500 years. It is well-written and well-structured, and leads to an important and provocative discussion of seapower and sea power in contemporary international relations."—Richard Harding, author of Modern Naval History
 
 

Yale University Press, 9780300230048, 424pp.
Publication Date: November 27, 2018
About the Author
Andrew Lambert is Laughton Professor of Naval History at King's College London, and a fellow of the Royal Historical Society.
or
Not Currently Available for Direct Purchase