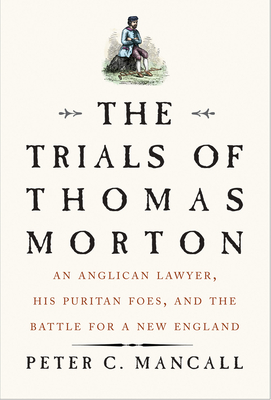 The Trials of Thomas Morton (Hardcover)
An Anglican Lawyer, His Puritan Foes, and the Battle for a New England
Yale University Press, 9780300230109, 288pp.
Publication Date: November 26, 2019
Other Editions of This Title:
MP3 CD (11/12/2019)
Compact Disc (11/12/2019)
* Individual store prices may vary.
Description
A new look at Thomas Morton, his controversial colonial philosophy, and his lengthy feud with the Puritans
 
Adding new depth to our understanding of early New England society, this riveting account of Thomas Morton explores the tensions that arose from competing colonial visions. A lawyer and fur trader, Thomas Morton dreamed of a society where Algonquian peoples and English colonists could coexist. Infamous for dancing around a maypole in defiance of his Pilgrim neighbors, Morton was reviled by the Puritans for selling guns to the Natives. Colonial authorities exiled him three separate times from New England, but Morton kept returning to fight for his beliefs.
 
This compelling counter-narrative to the familiar story of the Puritans combines a rich understanding of the period with a close reading of early texts to bring the contentious Morton to life. This volume sheds new light on the tumultuous formative decades of the American experience.
About the Author
Peter C. Mancall, the Andrew W. Mellon Professor of the Humanities and professor of history and anthropology at the University of Southern California, is the author of six books about early America.
Praise For The Trials of Thomas Morton: An Anglican Lawyer, His Puritan Foes, and the Battle for a New England…
""In a brilliant riposte to scholarly conventions, and one that many scholars might want to qualify, Mr. Mancall  . . . reconstructs an early colonial experience that is troubled and contested, one that provides a powerful counter-narrative to the traditional accounts that have been institutionalized as clichés in the Thanksgiving tradition."—Crawford Gribben, Wall Street Journal
"Mancall's book is lively, fascinating, and highly readable. . . . Mancall has meticulously reconstructed a neglected episode in colonial history and the twists and turns of the publishing, reception, and subsequent use of a mischievous book."—Richard M. Gamble, The Orthodox Presbyterian Church
"Thomas Morton is one of the great anti-heroes in American history. Attorney, trader, Puritan critic, Native American admirer, Morton at last has the biography his picaresque life deserves. Peter Mancall's deeply researched and beautifully written book brings Morton to life and promises to change the way we think about early America."—Louis P. Masur, Rutgers University
"In this absorbing work, Peter C. Mancall rescues Thomas Morton from the realms of fiction and wishful thinking he has long inhabited. By exploring Morton's alternative vision for English colonization, Mancall poignantly reminds us of roads not taken."— Alison Games, author of The Web of Empire: English Cosmopolitans in an Age of Expansion, 1560-1660
"By focusing his narrative on Morton Mancall introduces  contingency into early New England history, showing that alternatives were possible—if only they had been pursued."—Mary Beth Norton, author of In the Devil's Snare: The Salem Witchcraft Crisis of 1692
"The Trials of Thomas Morton uses the life of the "Lord of Misrule," who enraged Puritans by dancing with Indians around a Maypole, and a study of Morton's strange New English Canaan (1637), to offer a startling counter-narrative of early New England history."—Christopher Grasso, author of Skepticism and American Faith: From the Revolution to the Civil War