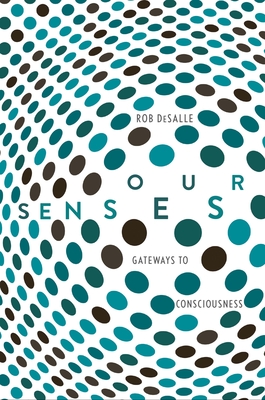 Our Senses (Hardcover)
An Immersive Experience
Yale University Press, 9780300230192, 312pp.
Publication Date: January 9, 2018
Other Editions of This Title:
MP3 CD (1/9/2018)
Compact Disc (1/9/2018)
* Individual store prices may vary.
Description
A lively and unconventional exploration of our senses, how they work, what is revealed when they don't, and how they connect us to the world

Over the past decade neuroscience has uncovered a wealth of new information about our senses and how they serve as our gateway to the world. This splendidly accessible book explores the most intriguing findings of this research. With infectious enthusiasm, Rob DeSalle illuminates not only how we see, hear, smell, touch, taste, maintain balance, feel pain, and rely on other less familiar senses, but also how these senses shape our perception of the world aesthetically, artistically, and musically.
 
DeSalle first examines the question of how perception and consciousness are formed in the brain, setting human senses in an evolutionary context. He then investigates such varied themes as supersenses and diminished senses, synesthesia and other cross-sensory phenomena, hemispheric specialization, diseases, anomalies induced by brain injuries, and hallucinations. Focusing on what is revealed about our senses through the extraordinary, he provides unparalleled insights into the unique wonders of the human brain.
About the Author
Rob DeSalle is curator at the American Museum of Natural History, where he has curated or cocurated six highly praised exhibitions and leads a research group in the Sackler Institute for Comparative Genomics. He is the author or coauthor of fifteen books, including Welcome to the Genome. He lives in New York City.
Praise For Our Senses: An Immersive Experience…
"An animated introduction to the neuroscience of sensory perception with broad appeal to artists, musicians, and other consumers and generators of brainpower."—Kirkus Reviews
"DeSalle's enthusiasm blossoms when he discusses cross-modal sensory responses and the 'kluge' of competing elements that make up the human brain."—Publishers Weekly
In twenty chapters with beautiful illustrations and diagrams (DeSalle) maps out how our bodies see, hear, taste, smell and touch—and the genomics behind their evolution in the many common ancestors who came before us."—Forbes.com
"An unusual, illuminating, and often entertaining look at the brain."—Library Journal
"Wonderfully broad-ranging summary of the wide range of sensory systems that exist, and more importantly, how those systems interact in order to give rise to the multisensory experiences that fill our mental lives."—Charles Spence, author of Gastrophysics: The New Science of Eating
"Rob DeSalle's infectious enthusiasm and vast store of knowledge combine to make this book special, describing on a broad canvas each sense and the many different and fascinating facets of life to which they relate."—Gordon M. Shepherd, author of Neurogastronomy: How the Brain Creates Flavor and Why It Matters
"In the laboratory sensory science is serious business. But in the capable hands of Rob DeSalle it becomes fun and compelling for the general reader, and is made all the more accessible by Patricia Wynne's delightful illustrations."—Ian Tattersall, author of The Strange Case of the Rickety Cossack and Other Cautionary Tales from Human Evolution
"A spirited and engaging introduction to the fascinating world of the senses, from the illuminating perspective of a distinguished evolutionary biologist."—John Carlson, Yale University
or
Not Currently Available for Direct Purchase