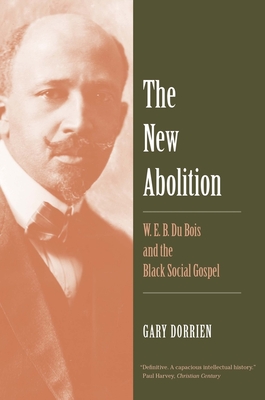 The New Abolition (Paperback)
W. E. B. Du Bois and the Black Social Gospel
Yale University Press, 9780300230598, 672pp.
Publication Date: January 9, 2018
Other Editions of This Title:
Hardcover (10/13/2015)
* Individual store prices may vary.
Description
The black social gospel emerged from the trauma of Reconstruction to ask what a "new abolition" would require in American society. It became an important tradition of religious thought and resistance, helping to create an alternative public sphere of excluded voices and providing the intellectual underpinnings of the civil rights movement. This tradition has been seriously overlooked, despite its immense legacy.
 
In this groundbreaking work, Gary Dorrien describes the early history of the black social gospel from its nineteenth-century founding to its close association in the twentieth century with W. E. B. Du Bois. He offers a new perspective on modern Christianity and the civil rights era by delineating the tradition of social justice theology and activism that led to Martin Luther King Jr.
About the Author
Gary Dorrien is the Reinhold Niebuhr Professor of Social Ethics at Union Theological Seminary and Professor of Religion at Columbia University, both in New York.
Praise For The New Abolition: W. E. B. Du Bois and the Black Social Gospel…
"Definitive . . . a capacious intellectual history . . . No reader will doubt the consummate professionalism of the scholarship, or the passion that Dorrien clearly has about the subject . . . with crisp narrative prose . . . gems of analysis and great personal stories from the often astonishing lives and deeply disturbing experiences of the protagonists."—Paul Harvey, Christian Century
"Magnificent . . . The New Abolition brings to life those reformers whose work commenced after American slavery officially ended and the enterprise of re-creating slavery in new form was beginning."—Jonathan Tran, Christian Century
"A text that must be engaged by American historians and theorists of race, religion, and politics."—J. Andrew Calloway, Reading Religion
"What sets Dorrien's book apart is his use of biographical sketches of pastors and activists . . . as windows into the conflicts, strategies, and personal and institutional rivalries that shaped the Black Social Gospel."—Carl E. Kramer, Church Historian
Winner of the 2017 Grawemeyer Award in Religion given by the Louisville Presbyterian Theological Seminary
"A magisterial treatment of a neglected stream of American religious history presented by one of this generation's premier interpreters of modern religious thought performing at the top of his game."—William Stacy Johnson, Princeton Theological Seminary   
"This is classic Dorrien—beautifully written, cogent, and moving. Ever the careful historian, ethicist, and astute cultural critic, Dorrien has penned another must read book for general readers and scholars alike."—Emilie M. Townes, Vanderbilt Divinity School
"Gracefully written and carefully researched, Dorrien's The New Abolition is an impressive recovery of W. E. B. Du Bois's relationship to the black social gospel. Anyone seeking to understand the historic contours of race, religion, and social activism in thetwentieth century absolutely must read this book."—Juan M. Floyd-Thomas, Vanderbilt University
"Gary Dorrien's impressively researched and riveting account of W. E. B. Du Bois and the black social gospel is the most comprehensive treatment of an extremely crucial, yet woefully overlooked dimension of black political history and the role of black churches and religious thinkers within it. It changes our understanding of the religious and political history of African Americans and challenges churches and political institutions of today to reclaim the mantle and of the prophetic, at times even radical, mission of the black social gospel."—Obery M. Hendricks, Jr., Columbia University
or
Not Currently Available for Direct Purchase