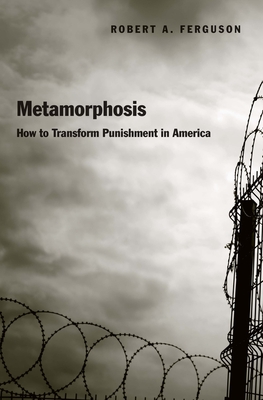 Metamorphosis (Hardcover)
How to Transform Punishment in America
Yale University Press, 9780300230833, 288pp.
Publication Date: April 17, 2018
* Individual store prices may vary.
Description
In the past few years, the need for prison reform in America has reached the level of a consensus. We agree that many prison terms are too long, especially for nonviolent drug offenders; that long-term isolation is a bad idea; and that basic psychiatric and medical care in prisons is woefully inadequate. Some people believe that contracting out prison services to for-profit companies is a recipe for mistreatment. Robert Ferguson argues that these reforms barely scratch the surface of what is wrong with American prisons: an atmosphere of malice and humiliation that subjects prisoners and guards alike to constant degradation. Bolstered by insights from hundreds of letters written by prisoners, Ferguson makes the case for an entirely new concept of prisons and their purpose: an "inner architectonics of reform" that will provide better education for all involved in prisons, more imaginative and careful use of technology, more sophisticated surveillance systems, and better accountability.
About the Author
The late Robert A. Ferguson was the George Edward Woodberry Professor Emeritus in Law, Literature, and Criticism at Columbia Law School. Previously he served on the faculty of the University of Chicago and as the school's Andrew W. Mellon Professor in the Humanities.
Praise For Metamorphosis: How to Transform Punishment in America…
"This wise, searching, impassioned, and compassionate book could not be more timely, especially for its vision of the reforms urgently needed in order to make our broken system of punishment more humane."—Lawrence Buell, Harvard University
 
"Our appalling prison system guts all claims to American moral supremacy among nations. Robert Ferguson's Metamorphosis, blending indignation with learning, logic, and cool writing, deserves high praise and urgent circulation."—Arnold Rampersad, Stanford University
 
"One of the most trenchant and unsparing critics of punishment in America, Robert Ferguson moves in this impassioned new book from diagnosis to prescription. He calls for change beginning at the atomic level of consciousness—the very words we use to describe punishment and rights, prisoners and their keepers. What gradually emerges from this work is a real hope for a metamorphosis—a 'transformation beyond recognition'—of our carceral state."—Kenji Yoshino, Chief Justice Earl Warren Professor of Constitutional Law, NYU School of Law
 
"In the field of law, Robert Ferguson stands almost alone in his combination of historical breadth, acute critical vision, and deep humanity. Metamorphosis brings Ovid and other literary sources into a profound encounter with the rawest of contemporary experience to provide at once a harrowing account of our present prison hells and a heartening vision of how we could move out of the inferno to something better."—Garrett Epps, Professor of Law, University of Oregon, and authorof American Epic: Reading the US Constitution
"This wise, searching, impassioned, and compassionate book could not be more timely, especially for its vision of the reforms urgently needed in order to make our broken system of punishment more humane."—Lawrence Buell, Harvard University
 
— Lawrence Buell
"Our appalling prison system guts all claims to American moral supremacy among nations. Robert Ferguson's Metamorphosis, blending indignation with learning, logic, and cool writing, deserves high praise and urgent circulation."—Arnold Rampersad, Stanford University
 
— Arnold Rampersad
"In the field of law, Robert Ferguson stands almost alone in his combination of historical breadth, acute critical vision, and deep humanity. Metamorphosis brings Ovid and other literary sources into a profound encounter with the rawest of contemporary experience to provide at once a harrowing account of our present prison hells and a heartening vision of how we could move out of the inferno to something better."—Garrett Epps, Professor of Law, University of Oregon, and authorof American Epic: Reading the US Constitution
— Garrett Epps