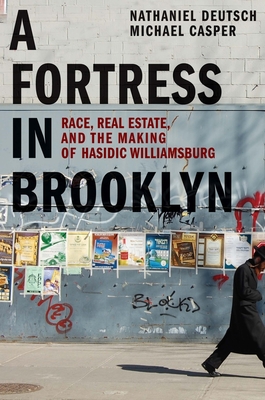 A Fortress in Brooklyn
Race, Real Estate, and the Making of Hasidic Williamsburg
Hardcover

* Individual store prices may vary.
Other Editions of This Title:
Paperback (8/23/2022)
MP3 CD (5/11/2021)
Compact Disc (5/11/2021)
Description
The epic story of Satmar Hasidic Williamsburg, from the decline of New York to the gentrification of Brooklyn

"Groundbreaking. . . . To fully understand Satmar, of course, one has to be born into it. But to understand how political prowess and real-estate know-how shaped the group's current iteration in Brooklyn, it would be wise to start with this outstanding book."—Laura E. Adkins, LA Review of Books

The Hasidic community in the Williamsburg section of Brooklyn is famously one of the most separatist, intensely religious, and politically savvy groups of people in the entire United States. Less known is how the community survived in one of the toughest parts of New York City during an era of steep decline, only to later resist and also participate in the unprecedented gentrification of the neighborhood.

Nathaniel Deutsch and Michael Casper unravel the fascinating history of how a group of determined Holocaust survivors encountered, shaped, and sometimes fiercely opposed the urban processes that transformed their gritty neighborhood, from white flight and the construction of public housing to rising crime, divestment of city services, and, ultimately, extreme gentrification. By showing how Williamsburg's Hasidim rejected assimilation while still undergoing distinctive forms of Americanization and racialization, Deutsch and Casper present both a provocative counter-history of American Jewry and a novel look at how race, real estate, and religion intersected in the creation of a quintessential, and yet deeply misunderstood, New York neighborhood.
Praise For A Fortress in Brooklyn: Race, Real Estate, and the Making of Hasidic Williamsburg…
"With a decade of research going into the book, based in part on numerous interviews with Satmar community members, the authors have written a fascinating and engaging work that captures the remarkable story of the rebuilding of the Satmar community."—Ben Rothke, Times of Israel
"Nathaniel Deutsch and Michael Casper unpack the history of Jewish Williamsburg and the collision of its pious Jewish community with the forces of commerce and urban development."—Shira Hanau,
New York Jewish Week
"This expert account enlightens."—
Publishers Weekly
"Groundbreaking. . . . To fully understand Satmar, of course, one has to be born into it. But to understand how political prowess and real-estate know-how shaped the group's current iteration in Brooklyn, it would be wise to start with this outstanding book."—Laura E. Adkins,
Los Angeles Review of Books
"Fascinating and colorful."—Tzach Yoked,
Haaretz
"Extremely well-written, copiously documented, and objective in analysis."—Edward Shapiro, Jewish Book Council
"Given the rapid pace of change and the intense interaction between collective identity and capital in New York City, Deutsch and Casper's ability to produce a narrative that is coherent without being reductive is especially impressive."—Jonathan Boyarin,
Marginalia Review of Books
"Fascinating. . . . 
A Fortress in Brooklyn
gives us an in-depth case study of how one often-misunderstood group struggled to secure a future for themselves in New York, and of the conflicts and contradictions that that effort engendered."—Samuel Stein,
Jewish Currents
"A brilliant study."—Joshua Shanes,
The Forward
"A spellbinding narrative of how the Satmar community went from a small group of post-war stragglers in Brooklyn to significant players in the New York City political and real estate worlds. . . . Fascinating and engaging."—Ben Rothke, jewishlink.news
"
A Fortress in Brooklyn
will delight with its Yiddish, and also offers a compelling and interesting take on real-estate development and the mosaic of urban life."—Bennett Baumer,
The Indypendent
"Deutsch and Casper muddy any clear-cut understanding of what it means to be Jewish in America. In doing so, the pair fill an important scholarly gap, inviting researchers to further question any straightforward consideration of Jewish-American identity."—Gabe S. Tennen,
Gotham: A Blog for Scholars of New York City History
Winner of the 2021 National Jewish Book Award, American Jewish Studies category, sponsored by the Jewish Book Council 
"
A Fortress in Brooklyn
 is one of the most creative and iconoclastic works to have been written about Jews in the United States. This book makes you rethink everything you know about American Jewish history and identity."—Eliyahu Stern, Yale University
"Deutsch and Casper have written a fascinating study of a little known—and even less understood—group and its engagement with gentrification. Anyone who wants to understand the peculiar dynamic that is contemporary Brooklyn needs to read this book."—Deborah Dash Moore, author of
Jewish New York: The Remarkable History of a Story and a People.
"
A Fortress in Brooklyn
sheds light on one of New York City's most enigmatic subcultures, charting the evolution of Williamsburg from embattled American
shtetl
to icon of urban chic. Absorbing and well researched, it is a signal contribution to our understanding of Brooklyn in all its richness and complexity."—Thomas J. Campanella, author of
Brooklyn: The Once and Future City
"In this rich, revelatory book , Deutsch and Casper meticulously chronicle how Williamsburg's Satmar Hasidim were shaped by, and in turn reshaped, the urban landscape of postwar Brooklyn, successively grappling with the challenges of poverty, street crime, deindustrialization, and gentrification."—Michael Woodsworth, author of
Battle for Bed-Stuy: The Long War on Poverty in New York City
"In studying the intersections of religion, race, and real estate in Hasidic Williamsburg, Deutsch and Casper take us beyond the stereotypes to show us life on its gritty, exalted, charged, and ever-changing streets."—Naomi Seidman, University of Toronto
Yale University Press, 9780300231090, 408pp.
Publication Date: May 11, 2021
About the Author
Nathaniel Deutsch is professor of history at the University of California, Santa Cruz. Among his books are The Maiden of Ludmir: A Jewish Holy Woman and Her World and The Jewish Dark Continent: Life and Death in the Russian Pale of Settlement, for which he received a Guggenheim Fellowship. Michael Casper received his Ph.D. in history from UCLA and has contributed to American Jewish History and the New York Review of Books.