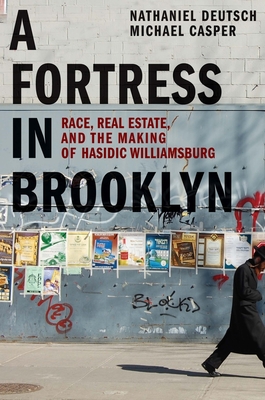 A Fortress in Brooklyn
Race, Real Estate, and the Making of Hasidic Williamsburg
Hardcover

* Individual store prices may vary.
Description
The epic story of Hasidic Williamsburg, from the decline of New York to the gentrification of Brooklyn

"A rich chronicle of the Satmar Hasidic community in Williamsburg. . . . This expert account enlightens."—Publishers Weekly

"One of the most creative and iconoclastic works to have been written about Jews in the United States."—Eliyahu Stern, Yale University

The Hasidic community in the Williamsburg section of Brooklyn is famously one of the most separatist, intensely religious, and politically savvy groups of people in the entire United States. Less known is how the community survived in one of the toughest parts of New York City during an era of steep decline, only to later resist and also participate in the unprecedented gentrification of the neighborhood.
 
Nathaniel Deutsch and Michael Casper unravel the fascinating history of how a group of determined Holocaust survivors encountered, shaped, and sometimes fiercely opposed the urban processes that transformed their gritty neighborhood, from white flight and the construction of public housing to rising crime, divestment of city services, and, ultimately, extreme gentrification. By showing how Williamsburg's Hasidim rejected assimilation while still undergoing distinctive forms of Americanization and racialization, Deutsch and Casper present both a provocative counter-history of American Jewry and a novel look at how race, real estate, and religion intersected in the creation of a quintessential, and yet deeply misunderstood, New York neighborhood.
Praise For A Fortress in Brooklyn: Race, Real Estate, and the Making of Hasidic Williamsburg…
"A Fortress in Brooklyn is one of the most creative and iconoclastic works to have been written about Jews in the United States. This book makes you rethink everything you know about American Jewish history and identity."—Eliyahu Stern, Yale University
"Deutsch and Casper have written a fascinating study of a little known—and even less understood—group and its engagement with gentrification. Anyone who wants to understand the peculiar dynamic that is contemporary Brooklyn needs to read this book."—Deborah Dash Moore, author of
Jewish New York: The Remarkable History of a Story and a People.
"
A Fortress in Brooklyn
sheds light on one of New York City's most enigmatic subcultures, charting the evolution of Williamsburg from embattled American
shtetl
to icon of urban chic. Absorbing and well researched, it is a signal contribution to our understanding of Brooklyn in all its richness and complexity."—Thomas J. Campanella, author of
Brooklyn: The Once and Future City
"In this rich, revelatory book , Deutsch and Casper meticulously chronicle how Williamsburg's Satmar Hasidim were shaped by, and in turn reshaped, the urban landscape of postwar Brooklyn, successively grappling with the challenges of poverty, street crime, deindustrialization, and gentrification."—Michael Woodsworth, author of
Battle for Bed-Stuy: The Long War on Poverty in New York City
"In studying the intersections of religion, race, and real estate in Hasidic Williamsburg, Deutsch and Casper take us beyond the stereotypes to show us life on its gritty, exalted, charged, and ever-changing streets."—Naomi Seidman, University of Toronto  
Yale University Press, 9780300231090, 408pp.
Publication Date: May 11, 2021
About the Author
Nathaniel Deutsch is professor of history at the University of California, Santa Cruz. Among his books are The Maiden of Ludmir: A Jewish Holy Woman and Her World and The Jewish Dark Continent: Life and Death in the Russian Pale of Settlement, for which he received a Guggenheim Fellowship. Michael Casper received his Ph.D. in history from UCLA and has contributed to American Jewish History and the New York Review of Books.