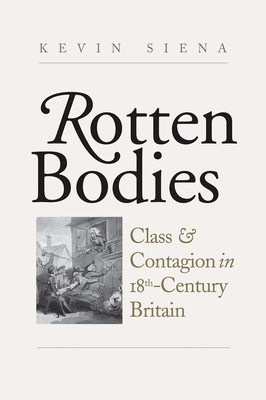 Rotten Bodies
Class and Contagion in Eighteenth-Century Britain
Hardcover

* Individual store prices may vary.
Description
A revealing look at how the memory of the plague held the poor responsible for epidemic disease in eighteenth-century Britain

Britain had no idea that it would not see another plague after the horrors of 1666, and for a century and a half the fear of epidemic disease gripped and shaped British society. Plague doctors had long asserted that the bodies of the poor were especially prone to generating and spreading contagious disease, and British doctors and laypeople alike took those warnings to heart, guiding medical ideas of class throughout the eighteenth century. Dense congregations of the poor—in workhouses, hospitals, slums, courtrooms, markets, and especially prisons—were rendered sites of immense danger in the public imagination, and the fear that small outbreaks might run wild became a profound cultural force. Extensively researched, with a wide body of evidence, this book offers a fascinating look at how class was constructed physiologically and provides a new connection between the seventeenth and nineteenth centuries and the ravages of plague and cholera, respectively.
Praise For Rotten Bodies: Class and Contagion in Eighteenth-Century Britain…
"Kevin Siena's second, brilliant, book ploughs a mercifully clear furrow through the morass of eighteenth-century medical writing. . . . This book is a genuine tour de force: clearly written, mercifully free of jargon and cautious about the nature of the fevers under discussion."—Jeremy Boulton, Continuity & Change

"A well-researched and eminently readable book, Rotten Bodies considers a wide variety of texts and treatises in showing how earlier beliefs about plague continued to shape eighteenth-century discourses of affliction, and both its evidence and argument should prove useful to anyone interested in discourses of class and contagion in seventeenth- and eighteenth-century Britain."—Lyn Bennett, Eighteenth-Century Fiction

"A rich and thoroughly convincing theory about class, contagion, and space, which emphasizes a significant amount of continuity in thinking about disease from plague, through typhus, to cholera."—Alysa Levene, Social History

"Rotten Bodies is a thoughtful and broad engagement with how the fear of epidemics effected eighteenth-century culture that centres class as a vital component of that fear and the reaction to it. . . . Siena's focus on the fearing class provides an ample resource for further engagement with class and the body more generally."—Richard T. Bellis, Canadian Journal of History

"Fear – fear of contagion and fear of the poor animated eighteenth-century Britain.  Kevin Siena's Rotten Bodies supplies an all-important new understanding of the histories of poverty, class and race."—Tim Hitchcock, author of Down and Out in Eighteenth-Century London

"Kevin Siena has produced a lively, smart, and thoughtful history of the pestilential 'plebeian body' and the fears it produced throughout the long eighteenth century. As it moves through sites as varied as debtors prisons, slums, cotton-mill towns, and the homes of the poor, this book insists on both the centrality of class as a category of analysis for medicine in the Age of Reason and the importance of medicine for the history of emergent conceptions of class. It is a work sure both to challenge and reinvigorate the history of medicine and British intellectual and social history more broadly."—Suman Seth, Cornell University


Yale University Press, 9780300233520, 352pp.
Publication Date: May 28, 2019
About the Author
Kevin Siena is associate professor of history at Trent University. He is the author of Venereal Disease, Hospitals and the Urban Poor: London's "Foul Wards," 1600–1800, which was shortlisted for the Jason A. Hannah Medal. He lives in Peterborough, Canada.
or
Not Currently Available for Direct Purchase