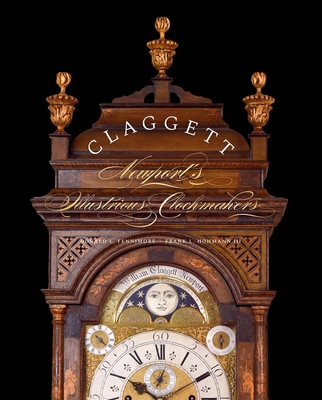 Claggett (Hardcover)
Newport's Illustrious Clockmakers
Winterthur Museum, Garden, and Library, 9780300233797, 272pp.
Publication Date: September 11, 2018
* Individual store prices may vary.
Description
In the 18th century, Newport, Rhode Island, was home to some of the most skillful craftsmen in colonial North America. Among them were the clockmakers William Claggett (1694–1748), James Wady (d. 1759), and Thomas Claggett (1730–1797)—individuals whose surviving works became the best-known records of their lives. Although they flourished in an era widely considered as a golden age of prosperity in Newport, their stories remained elusive, with a few magnificent clocks the only testament to their place in pre-Revolutionary New England. Through a broad search of archival records and a hunt to locate and document not only the work of these artisans—featured here in stunning new photography—but also their interconnected lives, the authors offer a more accurate picture of these three men, their trade, and aspects of life in contemporary Newport. The resulting volume reveals their stories and extraordinary works: an important contribution to the history of masterful craftsmanship in Rhode Island.
About the Author
Donald L. Fennimore is curator emeritus, Winterthur Museum, Garden & Library. Frank L. Hohmann III is a collector of 18th-century clocks and furniture.
Praise For Claggett: Newport's Illustrious Clockmakers…
"Equal parts catalogue raisonné and superb social history. . . . The result is a truly remarkable act of historical recovery, an often thrilling narrative of how three artists spent their days. . . . In the hands of [Fennimore and Hohmann], admiration and scholarship coexist in near-perfect harmony. A rare marriage, that."—Kirk Davis Swinehart, Wall Street Journal
"An important contribution to the history of masterful craftsmanship in Rhode Island . . . a fascinating must-read."—Antiques and the Arts Weekly